It's been quite some time since the big release day thanks to Mr.Gas & Major_Tom and as things getting more quite and routinely again, we decided to finally release the first versions of what Total_Noob later called TN-X.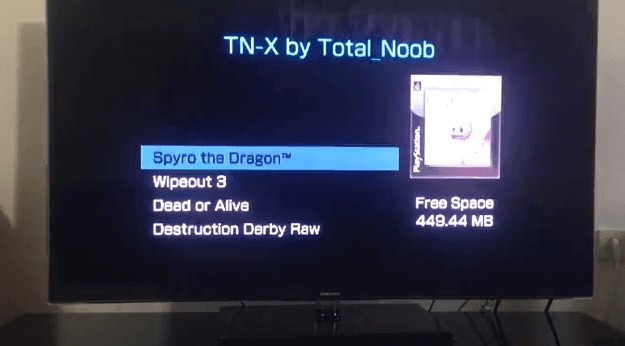 And before anyone freaks out, this is no big deal, nothing groundbreaking news and we don't think Total_Noob would mind since he doesn't seem to have any interest at all anymore.
After Acid_Snake and qwikrazor87 gave their PS1 exploit to TN back in 2014 to create a custom firmware for it, he soon came up with the simple PSOne Loader which later got leaked. After that, there were a couple of versions between what he later officially released as TN-X.
The first graphical menu for the loader: (This only works on 3.18FW)
Nothing special to this one but if you like it just test it out!
TN-X v1 with modified tnMenu: (built – May 16 2014 this only works on 3.18FW)
Now this beta version is a little bit better than the rest of them. Why? first thing is this version can install zip files and play some homebrew, so there is no need for TN-V but the work stopped on it cause of the leak. Remember that this is still a beta and all the bug where not fixed when it comes to installing zips and playing some homebrew.
Anyways, at first this version doesn't need the TNV savegame which reported causing a lot of problems using both TN-X and TN-V for the users. And secondly it additionally gives you more options like deleting and even lets you use INSTALL.ZIPs and run a couple of PSP Homebrews!
Download TN-X v1 for Tekken2 (US)
Note from Hackinformer: I been using these menus for a long time and never had any issue using them and TN-V bubble (the new ones, well old to me lol.) These menus also don't work on the Playstation TV.
How to use:
To exit a game press L + R + Select + Start
To take a screen shot just hold down the PlayStation button and you should see it in the menu.
How to install PS1 games:
Just like TN-V, you make a zip file just like always: INSTALL.ZIP ( PSP/GAME/PS1 Game/EBOOT)

Then place the INSTALL.ZIP file in the Tekken2 (21300) game save and transfer it to the PSVita via CMA or QCMA.
Once you launch the exploit and get into the menu you will see you PS1 game/INSTALL.ZIP, now press x to install it.
Extract the archive and you will see the progress bar start.
Now this is the part where it might hang while installing or give you an error and just will not work. If you get an error at the end of it installing don't worry that happens sometimes. Just restart the system and TN-X then you will see your PS1 game.
The homebrew it can play is very small amount and when you find one that will work it doesn't work right. So it's something that has never worked right but it's there and that's basically it. Since Total_Noob disappeared and we might never see the teased TN-X bubble in action, this is all there is. But remember, those are beta files and weren't meant for daily use.
Catch me on twitter: @freakler94