Today we will start with a series of tutorials for those who do not know how to install your ISO / CSO games, PS1, Emulators, Homebrews for ARK, TN-V, or VHBL.
We begin with the installation of PSP games (ISO / CSO) the easy and simple way.
Requirements:
QCMA or CMA.
A savedata – any one will do.
A PSP game (ISO / CSO).
1) First of all, you should check your operating system and make sure you have enabled the option to show file extensions.
W7 example:
If you don't you can go in any window and you should be able to go to the Folder Options, go to the tab View and you must find the option that refers to hide or show the extensions.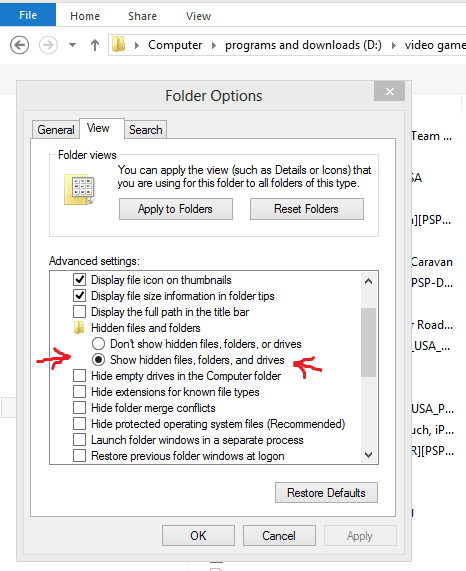 2) Once the extensions are enabled, you can view the files with their corresponding extension correctly, now we have to get any PSP SAVEDATA and we will place the ISO / CSO within the SAVEDATA, following this simple rule:

The name of the game should not exceed 8 characters and must be written in all caps including the extension.
3) To transfer the PSVita/PSTV SAVEDATA you must use QCMA or CMA, the SAVEDATA is usually found in your documents folder or where you made QCMA or CMA place them in your PC. Here is an example of where I have QCMA put everything at. 
Documents / PSVita / XXXXXXXXXXXXX / PSAVEDATA
Now you will put the game save into the PSVita/PSTV, it's the one you put your ISO / CSO files in.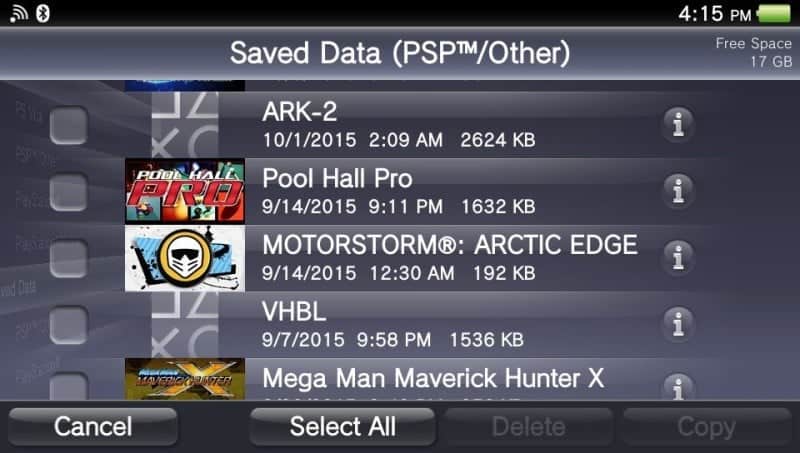 4) Now, we run the exploit ARK or TN-V.
This is ARK eCFW with ONEMenu
Within ARK using ONEMenu just activate the option SCAN SAVES for our game to be shown and it can be executed directly.
OPTIONAL: If you wish to move the game to ms0: / ISO press SELECT to enter the browser, then find the game in ms0: / PSP / SAVEDATA / and move it to the ms0: / ISO folder
ARK eCFW with 138Menu
ARK to start with 138Menu you must go to the browser options, and move your game ms0: / PSP / SAVEDATA to ms0: / ISO
TN-V eCFW
In TN-V you'd have to do some additional steps, if you have anything installed, you must download a menu ONEMenu, 138Menu or PSP filer.
5) As you have already downloaded the files you must place the ONEMenu, 138Menu or PSP Filer in TN-V savedata this is the folder name TNV or TNV_00000, it's right where you put the 6.60.PBP file at.
6) Now you must rename the EBOOT.PBP application you have chosen and rename it to RECOVERY.PBP, then transfer this to your PSVita/PSTV savedata again using QCMA or CMA.
7)   TN-V eCFW: When you launch TN-V press the R button to enter the Recovery Menu or once TN-V is running you can press select to get into the Recovery Menu.
TNV / RECOVERY.PBP
TNV_00000 / RECOVERY.PBP
8) Now just move your game to ms0: / ISO for the game to be displayed on the XMB.
NOTE: You can use other application instead of the menus, like PSP Filer, VitaFTP, or some other file browser to move the ISO / CSO to ms0: / ISO
As you can see is relatively simple to install their ISOs.
Stay tuned to our news, and any questions you have, do not hesitate to comment on it. Remember to follow us on social networks. In twitter accounts hackinformer hackinformerES and gdljjrod .