This is certainly an interesting development coming from the iOS community. Since day one saurik has restricted his iOS homebrew store from directly modifying it. You were not able change the  Cydia UI, utilize custom keyboards, use activator functions and other tweaks that would change the user experience. For the most part i can understand why he would be afraid to open up and allow that kind of access. Here is the official changelog:
Cydia 1.1.19, now released, no longer runs as root (even momentarily!), which means that Cydia Substrate is now able to modify Cydia itself.

— Jay Freeman (saurik) (@saurik) July 3, 2015
Changes in Cydia 1.1.19
Cydia Substrate Compatibility
Cydia now runs as "mobile" instead of "root". This means that Cydia Substrate extensions (tweaks) can now modify Cydia, just like those tweaks modify other apps and iOS.
How this will affect you:
After you install this upgrade, you may be surprised to see that your installed tweaks are modifying Cydia. For example, if you have a tweak installed that improves how the keyboard works in all apps, it will now improve keyboards in Cydia as well.
Tweaks may have problems:
Some tweaks may have bugs in how they affect Cydia, such as applying an odd color to a piece of text, because their developers have not been able to test this before. Please be patient and give developers time to update their tweaks — you can often follow them on Twitter for news and updates. You can temporarily uninstall a tweak if it is causing problems for you.
What if something goes wrong?
If you install a tweak that causes Cydia to be unusable, you can fix it by booting your device with Cydia Substrate disabled (which also disables all tweaks). To do this: turn off your device, and turn it on while pressing the volume up button until it finishes booting. Then open Cydia, uninstall the buggy tweak, and reboot again to go back into normal mode.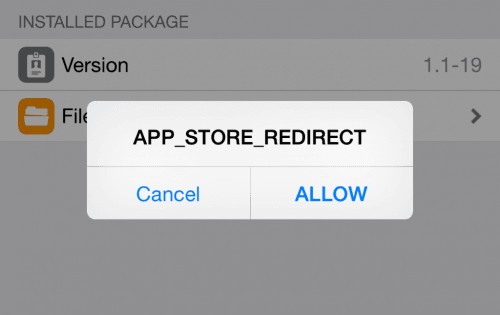 In most recent updates, I'm sure your aware of redirects to the appstore for useless promoted apps. Many users were left with a bad taste in the mouth and have become fed up with these practices. So much that devs responded by creating tweaks to stop redirects to the appstore! This move may be to make Cydia more competitive with the upcoming iMODS store. iMODS team and others have made waves with their take on their homebrew store and tweaks such as Anemone (Winterboard alternative).  I embrace competition as it only makes for better content and will be interesting to see what homebrew stores future jailbreaks will offer.
https://www.youtube.com/watch?v=P8qvxNUEi_8
I imagine Saurik will continue to make more changes to stay competitive with iMODS. Cydia has bascially remained unchanged in terms of UI and is showing its age. iOS has evolved alot over the years and fresh coat of paint is in need. What are your thoughts about Saurik allowing modifications to Cydia? Give us a comment below and let us know your experience with Cydia and how you feel about iMODS.
Team Hackinformer signing out