This was an very interesting demo to try out and I enjoyed every moment of it. I was expecting the typical fighting action and was delighted to see something new to the series. 🙂 The demo has 4 characters you can choose from including Goku, Gohan, Vegeta and Majin Buu (Fat Buu). You also have access to 5 stages from iconic places like the World Martial Arts Tournment to King Kia's planet.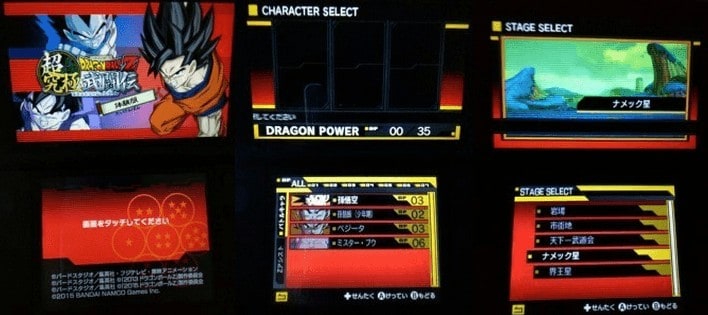 I really wish the western audience could have gotten this demo in the eShop, sadly it's only in the JPN! 🙁 Bummer I know!! You'll able to summon your chi to power up and use signature moves such as, the Kamehameha Wave. You can do manevers, in the sky or on the ground, as you please.
Finally, for the first time you have 3 Vs 3 battles to crank up the heat and blow your competition out of the water. You can easily switch characters on the fly by using the touchscreen, this is incorporated well. Using three characters, adds deadly combos and I personally had a lot of fun using this new system! I welcome this new setup and i know everyone will be itching to play this when it releases.

I see imports becoming a big part of my 3DS gaming and homebrew has made it possible. This demo has changed my mind about fighting games on the 3DS and I'm stroked to bring this review to you. This review has a rating of over 9000!!!!!!!!!!!!!! I see plenty of replay value and I can't wait to see what the finished product brings! Next time, on the full review of Dragonball Z!!!!!
Team Hackinformer signing out