Today Studio Wildcard, an independent developer, has given us a glimpse into their new Jurassic creation called Ark: Survival Evolved. It is an open world, dinosaur survival game where players will fight for their lives against the most ferocious creatures to ever walk the earth.
Ark will be on PlayStation 4 ,Xbox one, Windows PC, Mac, and Linux. It will launch on Steam's early access program June 2, 2015 for survivors to begins exploring the vast, formidable environment and its many secrets.
Ark: Survival Evolved is powered by the Unreal Engine 4 and it takes on the survival genre with a unique blend of emergent, multi-player cooperation and competition. The player wakes up naked and starving on the beach of a mysterious island among a herd of confused humans.
In Ark, they must hunt, harvest, craft, research technology and build shelter to protect against scorching days, freezing nights, volatile weather systems, dangerous wildlife and potential enemies.
The player will have to use cunning strategies and tactics to tame and ride the many dinosaurs and other primeval creatures roaming the dynamic, persistent ecosystems across land, sea, air, and even underground. Build your character's strengths and gain items, skills and pet creatures using in-depth role-playing systems. Start a tribe with hundreds of other players to survive and dominate competing tribes and ultimately discover ARK's true purpose.
"ARK taps into the scale, size, and wildly unpredictable nature of the dinosaur eras like no other game before it, then pairs it with the wonders of exploration and technological discovery," said Jesse Rapczak, co-founder and co-creative director, Studio Wildcard. "We're particularly excited to bring ARK to consoles, as open-world survival gameplay is typically found solely in PC games."
Tame one of 60 amazing dinosaurs and other prehistoric beasts, including gargantuan creatures, on a scale never before seen in video games! Fly a Pterodactyl squadron over the snow-capped mountains, race through the deep jungle with your pack of trained Raptors, tromp through a fortified enemy base along a convoy of gigantic Brontosaurus, or chase down prey on the back of a raging T-Rex.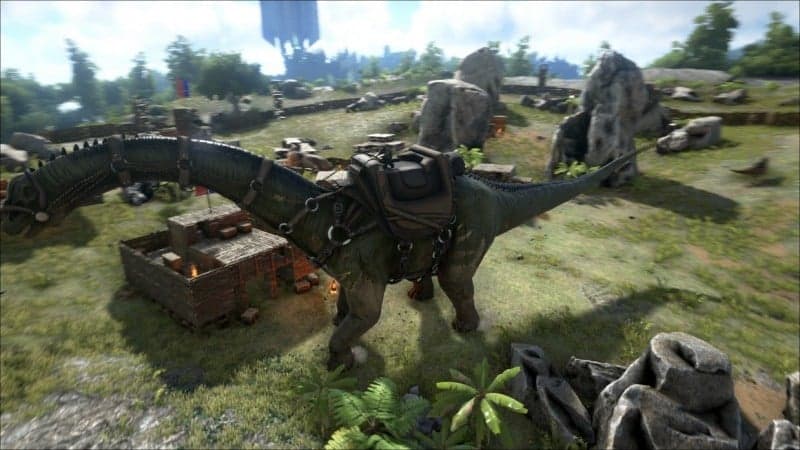 Players will quickly learn that dinosaurs aren't the only dangerous creatures on the island.
Other players are organizing rebel tribes to accumulate resources, experience, re-spawn points and to construct sprawling villages and cities with technology spanning the primitive stone-age to the modern electric-powered era and beyond. They will fight to destroy anything they see as a threat.
ARK: Survival Evolved will launch in 2016 on PlayStation 4, Xbox One via ID@Xbox program and Steam, including Oculus Rift VR support and a thorough integration of Steam community features such as Steam Economy and Steam Workshop for custom maps and moods. The world of ARK is designed to be player-oriented and ever-expanding!
ABOUT STUDIO WILDCARD
Studio Wildcard was founded in 2014 by Jesse Rapczak, former Technical Art Director at Microsoft Game Studios, with the mission of bringing AAA quality to ambitious indie productions designed for core gamers. With 12 years of industry experience across multiple independent and studio-backed titles, Jesse has teamed up with other veteran developers for a Seattle-based development studio that also includes distributed team members across multiple continents. Wherever talented, driven developers may reside, Studio Wildcard intends to seek out and work with them!