Despite being a little older than 10 years old, PSP can still offer western players new gaming experiences and open them doors to the new series, and not only in Japan.
It's year 2015, and even though there are a lot of passionate Vita owners and it's doing decently in Japan, the total sales are nowhere near PSP, and they will never be, even if Vita gets the way to install free gamez. That is the fact. It is also the fact that out of all great JP-only PSP games ever released, a majority will never officially make it to the west. Yes, a few were ported to the current gen platforms (including X1, thanks Square Enix), but most of them are just forgotten. As this year's events show though, it may not be over yet. That is what I want to focus on today.
PSP has alwas had a great base of fan translators, who have allowed us to play some never-translated games in English (more-less), like Dragon Quest & Final Fantasy in Itadaki Street Portable, Grand Knights History, two Hatsune Miku: Project Diva games, Valkyria Chronicles 3 (& Extra Edition), Toradora! Portable, Way of the Samurai Portable, first Danganronpa (project of translating the second game was cancelled right after PS Vita remasters were annoucned), or Final Fantasy Type-0. Actually, nevermind the last one, Type-0 fan translation patch had to be taken down due to copyright infringement.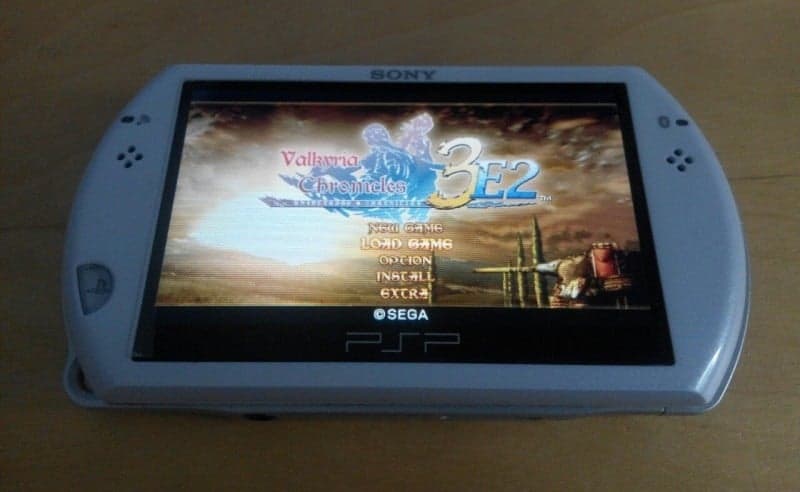 If you want to keep up to the latest PSP fan translation projects, or maybe have a look if there aren't any you missed, there's great list of PSP fan translations on gbatemp. Latest added/updated projects were Yu-Gi-Oh! ARC-V Tag Force Special, latest game from the Yu-Gi-Oh series, and God Eater 2, which despite getting an expansion called God Eater 2: Rage Burst, doesn't look like it will ever make its way to the west. And these are quite recent games, Yu-Gi-Oh was released in January 2015, so as you can see, fan translation scene will probably be here for a while, and we get something once in a while.
The thing is though, the finishing of fan translations vastly depends on translation teams' time, resources, etc., and it surely is not easy, and for variosu reasons related to those things, a big part of fan translation fails. Also, the only legal way to play those games is to download the game from e.g. JP PS Store (or import a UMD) and then apply the patch, everything only on PSP. Another way, running a patched ISO on your Vita through eCFW, would be illegal, and if not illegal (for example if you had an iso you had created yourself), then very obscure. So basically, instead of playing on 3 devices (PSP/Vita/PS TV), you play only on one.
Before I get to the main part of the article, I should say something about PSP in Japan. PSP in Japan is still alive and doing well, at least software-wise. It had 6 games coming out from January to March of this year. Six games in three months for a ten year old system? That's not bad.
PSP's hardware sales are not being tracked anymore (last you can find are from the last week of 2014), but software once in a time appears in weekly Media Creates Sales. In March, a Nippon Ichi Software (known for their Disgaea series) otome visual novel Uta no Prince-Sama: All Star After Secret (in the picture above) from a series Uta no Prince-Sama sold 67k and reached 4th place in its opening week. Only 9k less than that week also debuting Digimon Story: Cyber Sleuth. Although it dropped to 26th place in the second week, first week's success was very impressive.
Another PSP game that made it to top 50 of that week was, well, also an otome game – Harukanaru Toki no Naka de 6, published by Koei Tecmo, known for their Warriors franchises.
On the last note, another otome PSP-only game came out just this week – Meiji Tokyo Renka: Twilight Kiss, which is being published by Broccoli (subsidiary of GungHo Online Entertainment), the same company that publishes Uta no Prince-Sama series. We will see how this game does. Prototype's Gakuen Heaven 2: Double Scramble came out on the same day. Here's a chart I made showing this year's JP PSP releases with all the important information I could have gathered.
Let's leave Japan and head to the west.
The games released for PSP in 2014, such as StreetKix: Freestyle and End of Serenity, didn't do well or catch particular interest. Fans had to wait until January 2015 to see truly quality game, and that game was Brandish: The Dark Revenant from Nihon Falcom (known for the series Dragon Slayer, The Legend of Heroes or Ys). Brandish, the first game of so-called series, was originally released on NEC PC-9801 and FM Towns in 1991, later ported to TurboGrafx-CD and SNES in 1994. SNES version even made it to the west in 1995 but it received mixed scores. Expanded re-release Brandish Renewal came out for PC-98 in the same year. In 2009, Brandish: The Dark Revenant, so far the latest version for PSP was born, reviving the original game with 3D graphics.
Comparison of SNES and PSP versions

First game of the Brandish series has always been considered by the fans as the best game of the series, and this most-definite version strengthened that opinion. Five years later happened something that almost nobody expected, XSEED Games announced that they would be localizing Dark Revenant and releasing it in the west. In January 2015, the game was released in the US in a digital from, being compatible with PSP, PS Vita and PS TV. This release was being connected to the release of the new PSP firmare 6.61, but this speculation was proved to be false. The game received very good scores and was well accepted, despite being niche, and XSEED showed everybody that PSP was alive software-wise, and the multi-platform compatibility helped too.
This was certainly very important, because it showed everybody that people in the west were still willing to buy niche PSP games which hadn't been localized before. Now we're in April 2015, and two Japanese games have just been announced to be coming to the west starting this year, thanks to Gaijinworks and MonkeyPaw Games. The games are Summon Night 5 and Class of Heroes 3. Both games will have a poll to gauge demand for the limited edition, which would include a UMD disc and a PSN digital code that would allow you to download the game to your PS Vita/PSP Go/PS TV. These polls should start in late May/early June. None of these games will have English dubbing.
Let's have a look at these two games. Class of Heroes 3 is a part of the dungeon crawling RPG series Class of Heroes. The first game, Class of Heroes, was released for PSP in 2008 in Japan and in 2009 published in US by Atlus and received mixed scores. Its PSP sequel Class of Heroes 2 (released in 2009) as well as the enhanced port of the sequel, Class of Heroes 2G (released in 2010), were published in the US by Gaijinworks in 2013 and 2014 respectively. And now in 2015, it is sure Class of Heroes 3, which was released in 2010(!), will be following its predecessors. Unlike Summon Night 5, which should come out this year, release window of Class of Heroes 3 has not been announced yet. Pricing will depend on the poll results.
Time to hit the books with a new crop of adventurers! Class of Heroes 3 takes the series to the next level with fan-requested changes and all new game systems that make this one of the most addictive and charming dungeon crawling RPGs ever!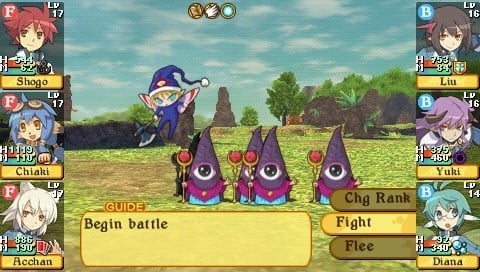 You can find more Class of Heroes 3 info & pictures on the official page of Gaijinworks.
Second game is Summon Night 5. This is for most people probably even more exciting than Class of Heroes. Why? Summon Night is a huge series from Flight-Plan(Black/Matrix), published by Banipresto. After Flight-Plan's dissolution, Summong Night 3 and 4 were ported to PSP by Felistella, which then made brand new Summon Night 5 for PSP (published by Bandai Namco).
The series contains 5 mainline strategy RPG games (not counting remakes), whose stories are not much connected,  and 7 action RPG spin-offs  with combat types inspired by Tales, Ys, or Final Fantasy. Out of these 12 games, 3 were localized, and all 3 were spin-offs. Maybe Swordcraft Story on GBA rigns a bell?
Anyway, that being said, Summon Night 5 will be the first mainline Summon Night game released in the west. In 2015. For PSP. Vic Ireland, founder of Gaijinworks, said on the official forum that one of the reasons why they started with 5 was that they wouldn't be able to do all three PSP games (3, 4 and 5) before the PSP window closes. He also said that they're currently "discussing or negotiating for other titles" and "nothing is off the table for PSP that I can think of, except maybe Atlus stuff". To the question "why bother with PSP?" he replied that by translating PSP games, they cover 3 platforms (PSP, Vita, PS TV) and they want to rescue as many PSP JRPGs as they can "before that opportunity is lost." Like with Class of Heroes 3, pricing will depend on the poll results.
When worlds collide and everything is turned upside-down, a new order must be created to keep chaos at bay. Bandai Namco's Summon Night 5 is the continuing story of that order-keeping society, the Eucross, and the adventures their Summoners have keeping their world and the disparate races from the Otherworlds in balance.
You can find more Summon Night 5 info & pictures on the official page of Gaijinworks.
Also, the announcement thread on Gaijinworks forum is great and already 16 pages long. If you have any questions, ask them there.
Of course, we can't forget about Nihon Falcom's The Legend of Heroes: Trails in the Sky Second Chapter, which should be coming to the US and EU this year thanks to XSEED.
I think this sums up all official PSP translations are coming out this year. There may be more and I'm pretty sure there will be. There's one thing I keep thinking about, even more after reading some posts of Vic Ireland on the Ganjinworks forum. PSP is still looking alright in Japan (it doesn't matter that the games are mostly otome visual novels), the fact that its games can be played on 3 platforms helps it a lot, and there are passionate people who want to bring as many forgotten JP-only gems to the western players as possible, but there definitely is a limited time left for PSP. The constant question even strengthened by what we've learned in the last few days is: How much time is it? Can PSP make it to, let's say, 2020?
That's all I have for today. You can contact me on twitter @Dessel575.
LONG LIVE THE PSP