NTR CFW 2.1 RELEASED WITH ANTI-PIRACY REGION-FREE CFW ON JP/EU/US/AUS FOR THE NEW 3DS
This has been an intresting week for us all and the New 3DS is no exception with the release of NTR CFW 2.1 was released with Anti-Piracy Region-Free CFW for JP/EU/US/AUS regions. Now with NTR CFW, only genuine gamecards can be used in this CFW. So that means, no cia, no piracy.So what's new in NTR CFW 2.1:
[Feature] Clean Mode: Some games are not compatible with NTR CFW's functions (ie. MH4, SSB), which you can run them by using the Clean Mode feature in NTR CFW Menu. In the Clean Mode, all the features except Region-Free are totally disabled, and you can't return to Home Menu if you are running an region-locked game (the Home Menu will no longer accept it), use Power Button if you want to quit the game.
[Feature] Debugger: Debugger feature is normally disabled, you can use NTR CFW Menu to enable it, or put an empty file named 'debug.flag' on SD card to enable it automatically.
[Feature] Added support of US/EU/AUS regions: This was already done in the public beta version.
[Feature] LayeredFS: the LayeredFS Engine allows you play community-translated games on genuine cards, it works by redirecting some language files in the game card to SD card. You can read the rest here
KONAMI CONFIRMS THE DISSOLUTION OF KOJIMA PRODUCTIONS The Japanese website Game Spark managed to have a short meeting with the editorial team of Konami, in order to have clarification on the situation of Kojima Productions and its founder Hideo Kojima.This is the repartee which Konami took part, without giving too much satisfaction:Kojima Productions will be dissolved?Yes. All releases made under different studios will be centralized, coordinated from headquarters.Kojima will leave his position?Kojima will be the director of the Metal Gear series. He will continue to innovate with new ideas as creator. To find out more go here
PS VITA FW 3.50 – EVERYTHING YOU NEED TO KNOW! Good news! Well, its a matter of opinion.. The PS Vita Firmware 3.50 just got released and is ready to be installed! The update comes with some really neat features but on the other hand with alot of patches as well. But at first here's the official changelog: You can improve your Remote Play experience by adjusting the frame rate for Remote Play. In [PS4 Link], select [Video Quality for Remote Play] from the options menu.The scene search performance in [Videos] has been improved.[Maps] has been deleted from the home screen of the PS Vita system.Addresses and maps are not longer displayed in [near] on PS Vita.[Accessibility] has been added in [Settings].[Chat] in [Settings] > [PlayStation Network] > [Sub Account Management] has been renamed [Chat/User-Generated Media].PSN has been renamed "PlayStation Network."To find out more go  here



NEW PS4 FIRMWARE 2.50 "YUKIMURA"
The system update 2.50 for PS4 promises to be one of the most interesting updates released for the Sony console. In addition the Suspend mode allows you to suspend and resume the game exactly the same point will also feature the ability to back up data stored on external hard drives. It is rather interesting because up to this moment the console was incompatible with external hard drives.
To find out more go here

VITA UPDATE BLOCKER WORKING ONCE AGAIN BUT FOR HOW ALONG?
Well the latest firmware update 3.50 came out today for the PSVita/PSTV. So you may be wondering what to do if you stayed on frimware 3.36 or lower. Well fear not as Vita update blocker is once again working, so you can access the PlayStation store. Like always, here isn't much of a time window to use a proxy like vita blocker. This application does what Charles Proxy Trick does but without hassle.
Also this is Python based cross-platform application so you can even install this application to 24/7 running server to access PSN anyhwere.
To find out more go here
PS4 GLITCH LETS YOU TO WATCH VIDEO SERVICES VIA REMOTE PLAY
Do you like remote play, and do wish you could watch videos with it, well now you can. The latest PS4 update (2.50) which added Suspend and Resume seems to have inadvertently opened up the way for a workaround to this "issue.
The reason you might want to do this is with the PSVita is it doesn't have certain media apps that the PS4 has, such as Amazon Instant Video app. Also the PSTV  doesn't have a Netflix app. This has been one major cause of grief for the PSTV, but now that could all be behind us.With this glitch, people who want to use apps like Amazon Instant Video on their Vita or Netflix on their PSTV will be able to do so. Of course, you have to own both a PS4 and a PSTV or Vita for this to work.
To find out more go here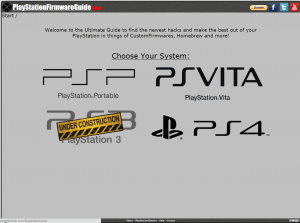 THE NEW AND IMPROVED PLAYSTATION FIRMWARE GUIDE (BETA RELEASE)
On February 14th, we released are handy PlayStation firmware guide and at the time it was a alpha build, that still needed a few tweaks to it. Well today we are glad to announce that we have just released the new beta build of the PlayStation firmware guide.The PS3 & glossary sections for the guide are still under construction, but we have updated the glossary a little bit. Now the biggest updates to the guide are in the psp sections and we also did a few minor updates to the PSVita section.
To find out more go here
Well there you have it a week of Glitches, CFW, Updates, guides and sad goodbyes.
As always you can find me on twitter @riddle43