It nice to see that the Xbox360 hacking community is still going strong, so here is a update for RGH'ing the Phat Xbox360 from developer 15432, over at hackfaq.net. He also known for releasing CFW in XSVF format for X360ACE v1/v2 to support RGH2 on Phat Xbox360. You can flash these files using the JTAG interface.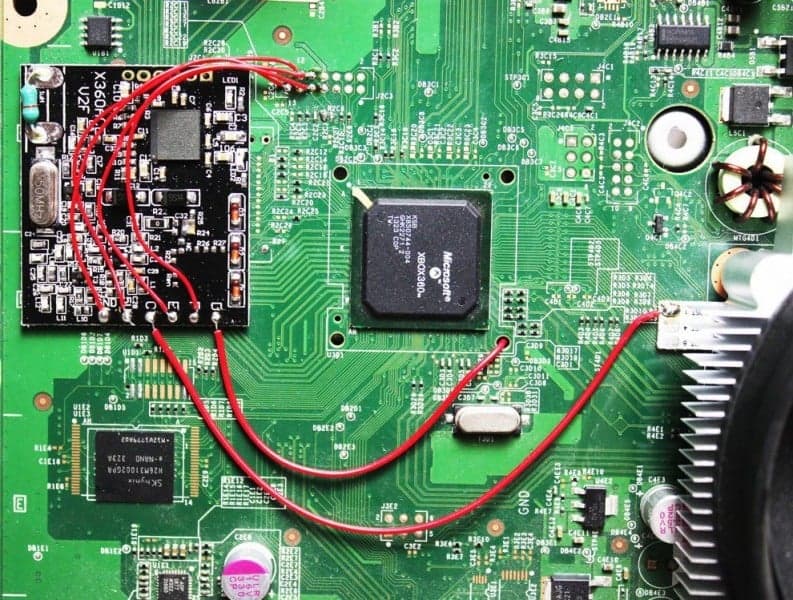 There has been reports, that developer 15432 has released a update for the X360ACE glitch'ing chips. It's said to be one of the most affordable Modchips and very stable too,. Now with this CFW update it shouldn't be that hard to put RGH your Phat Xbox360.
Here is the translated tutorial from HackFAQ posted by 15432 in Russian:For about a month I have been working on the launch of the chip RGH2 x360ace. Finally, everything is ready for release!For fun, try to arrange an article in the form of FAQQ: Why now? RGH2 on veils was for a long time!
A: Cheap and powerful chips x360ace appeared relatively recently. Besides, I was impressed this video Indicating that stable RGH2 on fatkah possible.Q: The video and so x360ace, why do something different?
A: Unfortunately, the author has not posted any code or xsvf files. I had to do everything myselfQ: How quickly start?
A: In my console – in the region of 4 cycles. But I did not even try to optimize starts by moving the wires and other magic. I'm sure you can do better.

Q: Faster than CR4?
A: No, not faster. Using ECC CR4 images can be reduced to the time of one cycle, but stability at start up CR4.

Q: What console are supported?
A: Judging by the reviews on Falcon and Jasper works. When will I Zephyr and Xenon – and for them to do

Q: Where can I download ??
A: Set the firmware available here Source code posted on GitHub

Q: The most important question. How to install?
A: For starters, you need to find x360ace v1 or v2:
You can buy them on the ebay or aliexpress. With a price of $ 2 – $ 10 apiece, a fake bump difficult because almost nobody forges.
Then find what they ask. XSVF files are supported by programmers as Super NAND Flasher, NAND-X and JR-Programmer
If zamorochitsya separately, can be written through Squirt 360 flasher and even after MTX SPI Flasher. But still recommend something from above.
Contact us to write firmware are on the opposite side of the chip:
Next you need to solder them to the console. Points marked similarly TX Coolrunner, problems should arise. Use your favorite laying wires, then I will tell you how to find the appropriate firmware file.
The only thing that requires change is the chip power. Need to unsolder and solder the diode at that point postings with 1.8V:
1.8V to take from here:
So. Now the most interesting – how to choose the firmware.
important note. if the chip is already soldered to the console before the firmware you want to paste the power to Xbox!
Firmware files are named according to the principle l x _s y, where x – pulse length, y – the start point.
Diode chip flashes to the beat of the bus post_out, it will help to choose the right firmware without logic analyzer.
Most importantly – find the pulse length is the main problem RGH2. It's simple, but the sign for more info:
write l6_s5.xsvf, look at the behavior of the LED.
most likely for one cycle you will see a lot of small pulses and one of Authenticity ("long" cycle). This means that the pulse length is too small.
take the firmware with more length, for example l7_s5.xsvf, again, look at the diode.
continue to increase the length, until there are only cycles of short pulses blinking ("short" cycle).
Finally, you need to choose a length, when there are "short" and "long" cycles interspersed.
If not, then select the minimum length of a short cycle.
Once decided on the length, select the time of discharge, it is easier – to sort out all 4 options.
In general, I have triggered flash l7_s6 and l7_s7. Startups are not perfect, sometimes up to 15 cycles comes, but I'm not trying to change the styling.
Who are interested, here's a video, shot in the dark
7 on the video starts, 1, 1, 1, 1, 8, 1, 2, 2, 11
We'll see both long and short flashes when trying to start, but nothing more to be seen)
For more info and files check out the sources below..
Source: RGH2 (phat) firmware for X360ACE / (http://www.hackfaq.net/xbox360/x360ace/)