This is a review for a game called Rhythm Sprout. I can't wait to tell you what it's all about. If you come along with me, and see what there is to see, I promise you'll see this is a game you can't live without.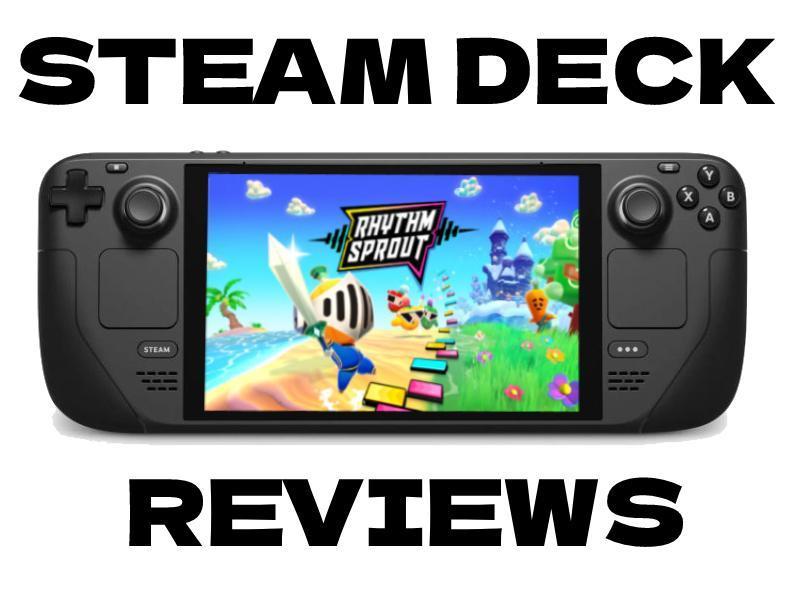 Description:
Enjoy chill Lo-fi walks and fight bosses to K-POP, EDM, and Hip-Hop inspired tracks. Features a quirky story, 30 handcrafted levels and various EX-modes to refresh your gameplay.
Features:
HANDCRAFTED LEVELS Every music track goes together with a unique 3D environment designed around its theme and story. Keep an eye out for little events and easter eggs throughout the levels!
ORIGINAL SOUNDTRACK All the music is created exclusively for the game with creative beatmaps in mind. It results in high sync between sound and gameplay – you will feel it! Music themes are inspired by different genres such as EDM, K-POP, Drum'n'Bass, Disco, Lo-fi hip-hop, even Metal, and much more.
A WACKY STORY TO FOLLOW Follow Sprout – the Chosen Onion – on his lightweight and self-aware adventure between music levels. Make funny dialogue interactions, full of silly jokes and pop culture references. Help the adorable inhabitants of the Vegetable Kingdom and face a charming cast of Sweet Villains.
INFINITE REPLAYABILITY AND CHALLENGE
Mix different level modifiers to get unique results:
– Speed up any song with the Turbo Mode
– Refresh your muscle memory using the Mirror Mode
– Shuffle the notes to get a unique beatmap – and share it with friends to challenge them!
– Or wing it entirely with the always-changing Totally Random Mode
– Rhythm Sprout features hardcore remixes, highscore challenges, and gimmicky bonus levels for extra fun.
CUSTOMIZATION Did we mention the unlockable outfits for Sprout? As well as skins for your sword!
Trailer:
Pros & Cons:
Music. I'm a self-pronounced lover of great video game soundtracks. I just absolutely the songs that were in this game. I'm not sure if they all came from one composer or if they were different people, but I don't care. The game features a grand mix of music that runs the gamut. All of these really lend themselves to the overall atmosphere and general vibe of the game. If you're into video game soundtracks, even without playing the games,

here you go

. I really hope that they release a physical version of the game including a CD soundtrack, I would definitely spend the money on it.
Story. Admittedly, I wanted to play as much of this game as I could before making my review, so I took advantage of skippable cutscenes. However, I think my main point of bringing up the story aspect is simply because there even is a story involved. I don't know of too many rhythm games with a story sprinkled in. Even the Square Enix developed Theaterhythm games seem to be without stories, as far as I know. They're working purely off nostalgia and prior knowledge of the works. Maybe there is a story to Kingdom Hearts Melody of Memory, but I won't know until I play it. Anyway, the point is, I feel like I can count the number of rhythm games with a story on one hand. So big props go out to the developers of Rhythm Sprout for adding another element of entertainment to their title.
Gameplay. It may seem simple, but here you press buttons to the beat of the music. I have to let you know that it naturally expands beyond that. You'll fight mini-bosses and big bosses with different tactics, for example. This includes activating your "Sugar Rush" boost (like Star Power in Guitar Hero). Once you complete a level, you unlock the next level in the game. But the most confusing part is when the song actually starts. See, if you press any button that is not correct or a correct button at the wrong time, it will count against your overall grade. In the beginning, the character is literally asleep until you tell the level to start. However, if you press any button after that, before the notes come, shame on you. It's usually 3-5 seconds before the notes get close enough for you to even consider pressing them. This game needs to have a countdown where you can press whatever until the notes actually begin. You know, like every rhythm game ever?

Replayability. It is a short game, if you're someone who needs your rhythm games to be long, sorry. At least, if you're someone who plays a game only once through, that is! Rhythm Sprout is challenging to the point that it could take you up to two full hours of ear-to-ear grinning and concentration while you play. And that's just the regular, standard mode.
The replayability is high on this one too, because unlocking the next level by playing the current one doesn't mean you get full stars on the current level. Going back and making sure you utilize your Sugar Rush and hitting everything on the beat is key. Sure, you don't have to. But if you want to get your money's worth, I really recommend challenging yourself further and going back to full star for each song.
Let me remind you that there is even more challenges beyond what I played thus far. You can go through and speed up the songs to see if you can hit the notes to a higher BPM. There's a mode where you can mirror the notes, so if you think you have it down, you're wrong! Beyond that, you can even choose to edit the beats and upload them. Craziest of all, you can play with the notes randomized and you'll never know what's coming. They even advertise "On top of that, Rhythm Sprout features hardcore remixes, highscore challenges, and gimmicky bonus levels for extra fun." I don't even know what that means yet!
Price. This game is too good for its $15 price point. I can't believe that they're charging such a small cost for such a great game. It's so upbeat, colorful, catchy, challenging, heartfelt, humble, and cheeky as hell! If you have $15 in your pocket right now, pull out your gaming device of choice and throw the wad of money at the screen. After Rhythm Sprout downloads, beat the game, and then proceed to thank me in the comments below.
Steam Deck Specifics:
I loved, loved, loved playing this game on the go. If you have a Steam Deck or any model of Nintendo Switch, this is a great game. However, I will say right now that the Steam Deck is a bit too chonky to play comfortably in a portable fashion. Playing on the Switch you could play on a walk, on the toilet, or laying down horizontally. Playing on the Steam Deck, however, means that you have to press the left D-Pad button for yellow, B button for pink, and the R1 button for blue. There is a key mapping feature, but it does not function properly on the Steam Deck as of now. You can tap a button to remap it. Then when you press any button to be assigned to it, it does nothing. You have to wait 15 seconds to let it give up and back you out of it so the buttons work again. That's my only Steam Deck specific complaint. The way to remedy this is to dock your Steam Deck and then play it with a controller, but that defeats the purpose of what I want it for. I want rhythm games portably.
Final Thoughts:
This game is great fun. There's no input lag so you're going to either pass or fail on your own merit. There's a storyline for those who need that in a rhythm game. It's extremely cute and is complete with cute music. Heck, the music is unoffensive, catchy, and doesn't get on your nerves if you have to play a level over and again. Boss battles really make this game unique so you can feel like the monotony of just playing songs will be broken up with tact, cunning, and planning.
Purchase Now!