ColorWare has been in the game for a long time now. They are a manufacturer of controller mods and so very much more. And I could actually write a whole article for what they are known for. But today, I have to show off one specific product, because I'd be doing you a disservice if I didn't. Yes, today, I will be talking about the Joy-Con Classic.
First off, I want to list their description and features of the product straight from the mouth of ColorWare.
Description:
'In 1985 Nintendo revolutionized the home entertainment industry by releasing the Nintendo Entertainment System. The NES took a niche hobby and brought it into everyone's living room. ColorWare is bringing back these memories with the release of our limited Joy Con Classic controllers. Available for a limited time only with the first 25 having a number of authenticity. Don't miss your chance to own these unique custom made Joy Cons.
Enjoy solo or group gameplay with these Limited Edition Nintendo Joy-Con wireless controllers. Made to work with your existing Nintendo Switch system, these sturdy units come with integrated accelerometers, gyro sensors and buttons for an immersive gaming experience. Woven wrist straps keep these Nintendo Joy-Con wireless controllers firmly in your hands.'
Features:
'ColorWare Limited Nintendo Joy Con Classic
Only the first 25 units were individually numbered
Custom painted in a black and grey to resemble the Original NES
May be used separately or attached to the main console
Each Joy Con has a set of buttons, accelerometer and gyro-sensor
Comes in original packaging
ColorWare Warranty'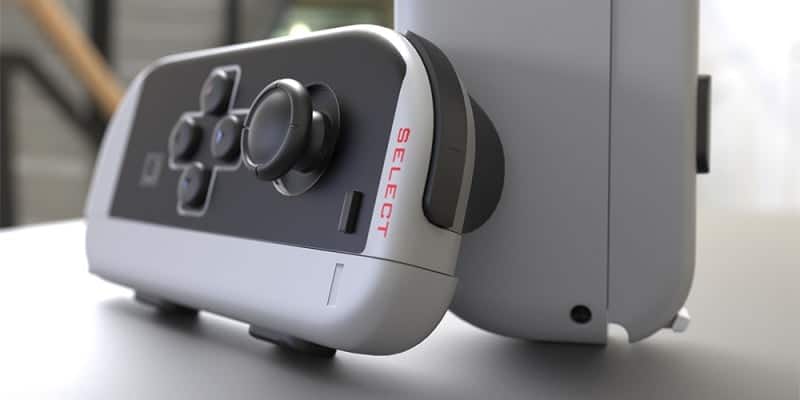 Yes, my friends, what you're looking at in the images are something of our youth, something of history, but also, something of the present all wrapped into one tiny controller set. You're looking at ColorWare's latest baby, the Joy-Con Classic. Even the name sounds retro. You'll notice that what the team at ColorWare has done is purchased Joy-Cons (presumably the basic gray color) and completely changed its layout. Now there is the two-tone black and light gray combination. This has striking red buttons to counterbalance the aforementioned colored. They added the word Select over the minus button and the word Start over the plus button. They took it a step further and since they've replaced the face buttons on the right Joy-Con with red buttons, something akin to the original NES controller, they printed ABXY letters on the outside of the buttons. Now, the red buttons are not concave like the old NES ones were. But that's just because they obviously wanted to keep the form factor of the Joy-Cons. My guess is that they're meticulously painting those buttons red and using them again.  Which is something that can keep the cost down, versus replacing the buttons with entirely new ones and having to manufacture lots and lots of red buttons. Although, I believe they should offer you entirely new buttons of the concave variety if you want to make it more authentic and simply charge you more.
The caveat to the whole thing, however, is how much you will be looking at spending to be able to use these bad boys. And the answer is $199.99 if you can believe it. Yes, the controllers with the wrist strap grips completely stylized as the 1980's classic NES will cost you $200.  Is it worth paying almost the full cost of the Switch to get a pair of completely custom Joy-Cons? That remains to be seen, of course. I couldn't find anyone who had actually purchased a pair yet and even if I did they take 3-4 weeks to arrive (at worst). I would just wager that if you wanted (until you saved up enough), you could always try to find skins that did the same thing. Let it be known that I am not telling you not to buy them as the skin wouldn't magically change the buttons red, but I'm just saying if you only want to impress your friends, you can do it for cheaper. If you want it because you have an affinity for all things NES and NES style. I'll have the link down below for you to purchase it, my friend.
If you would like to buy the Joy-Con Classic controller pair, follow the link to the ColorWare page by clicking here.
Stay tuned here on Hackinformer.com for all things Switch and follow us on Twitter @Hackinformer