If you're running any version of Adrenaline right now you know that the save state feature is sort of totally great.  However, the main caveat to it is that you lose those save states whenever there is an Adrenaline update.  That's where our new favorite superhero comes in.  The dev's name is Davis Nunez and he has brought a solution with him.  It's called Adrenaline States Manager, currently on its first official release.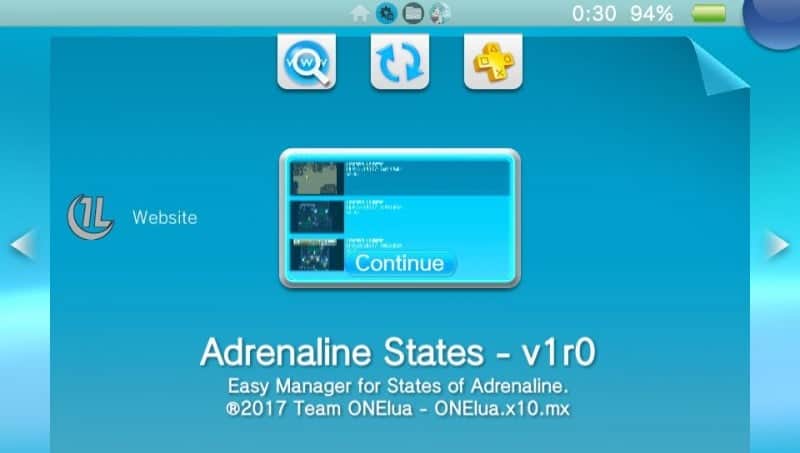 The app isn't up on the VitaDB yet, but don't worry, we have the link at the bottom of the page for you to swoop over and download the VPK file. But if you're wondering what the app actually entails first, let me break it down for you. The primary concept is that you don't lose your save states across whatever Adrenaline version you use. This also means that if you decide that you like an earlier build of Adrenaline better, you can always keep your save states.
All you have to do is change the version of the save state to match whichever version of Adrenaline you're using. You can also delete any given save state that you no longer want (or maybe you just want to clear up space on the Vita). You can view the informational details of the save states, super helpful if you need to know maybe what game they're from or if you realize that you can get rid of older saves from a certain game. The app even has some other cool features like a built-in network updater. Something that I feel every single thing that comes out should have anymore.
Check out the changelog real quick.
     'Changelog 1.0
Initial release.
Added automatic network update. App now notifies you when there's a new update.
Support get and view a complete list of states.
Support change version of states.
Support delete states.'
You can find the download link on Davis Nunez' github page by clicking here.
You should also follow him on Twitter by clicking here.
Stay tuned here on Hackinformer.com for all things Vita and follow us on Twitter @Hackinformer