Good day ladies and gentlemen! I have a nice, interesting product review for you today. I know I normally do game reviews but I do have the privilege, on occasion, to do a product review and this one is actually quite nice. The developers of Gamevice were nice enough to send us a review unit and let us tell you guys about it so I want to give a big shout out to them first for giving me this honor!! Now, on to the product.
The Gamevice is a neat little addition for the i-device that essentially turns your iPhone, or iPad into a handheld console akin to the PSP. It doesn't work with every game on the App Store but there is quite a library of games that do have controller support. Gamevice Live is the companion app that goes along with the device and lets you know what games are compatible. If you find a game it will take you directly to the game in the app store! After some extensive game-play there are some really good things about this product and some not so good things. Let's dive right in!
I'll start with the negatives so we can get them out of the way and get to the good stuff. First off, in my experience at least, the controls are a little unstable. What I mean is sometimes they were so sensitive that things would happen when I didn't want them to from me using the thumbstick and apparently shifting it slightly in a different direction. Also, the buttons would sometimes not respond without a firm press. Now some of this could possibly have been the games but I played a few. Next, the list of supported games, while fairly extensive, seemed like it could've been bigger. I'm sure with time it will grow quite large. At this point there are just under 1,000 games supported. That seems like a lot until you get to looking at a certain category and don't find much. Last, there were a couple of games that showed being supported but I couldn't get to play using the controller. It seems like if you're not playing a mainstream title like Minecraft or Call of Duty you may find yourself in a hit or miss on the controller support. The last thing is that I had to take my phone out of the case and also, although not completely necessary, I took off my tempered glass screen protector because it was a very tight fit with it on there.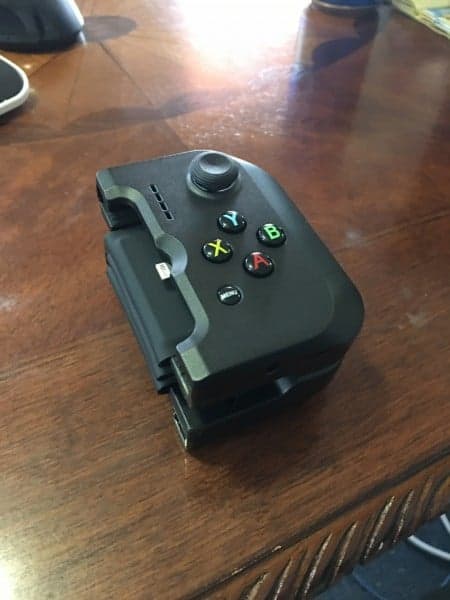 Now, on to the good stuff! This is a magnificent accessory to add to your iPhone or iPad. There is a version for iPhone, iPad Mini, iPad Air/Pro 9.7-inch and iPad Pro 12.9 inch. I have an iPhone 6S+ so that's what my testing was based on. I played several games and most were supported. I tried some free games and also some paid games. From Assassin's Creed to Shantae: Risky's Revenge I had quite a blast with this Gamevice. The design of it fits your hands well while giving you the ability to completely see the screen and game to your heart's content. Having thumbsticks really gives it the controller feel while also giving you the option to use the directional pad if you like or need.
It folds up nice and neat into a little cube that you can take with you and pull out when you feel the need to game. I carried it with me for about a week and played when I had the chance. It was honestly quite fun. I would completely forget that I was on my phone as it honestly felt like I was gaming on an actual game console rather than a phone.
The biggest beef I have with mobile games is the lack of a controller so you have to rely on the touch screen and I just can't play anything related to action games using a touch screen like that. The Gamevice completely freed me up to play any game I wanted to while on the go.
The good definitely far exceeded the bad on this one. While I did have a little response issue with the thumb-stick and buttons, it was minimal and I adjusted to it or used the d-pad. I played several games and most worked fine. One really great thing was if the Gamevice worked with a game it worked. There wasn't any going in and out or working one time then not another. It was smooth sailing.
It has a built in headphone jack and also allows you to charge your iPhone without removing it from the Gamevice. This is quite handy and since, as most of you know, the iPhone 7 doesn't have a headphone jack the Gamevice gives it one. That's right. It gives you the ability to use regular headphones on an iPhone 7.
The list of supported games is constantly growing and, with so many console games coming to mobile, you'll have access to some of your favorite games while on the go!
This device clocks in at $99.95 which isn't too bad considering the technology that goes into it. You can order them here at gamevice.com
Overall, I have to give this an 8/10 since I really enjoyed it despite the few issues I had. I would say if you're on the go and like mobile games this is a must-have for iPhone users. You won't regret it!!!
Thanks for reading and as always… Happy Gaming and keep on praising the sun!!