Final Fantasy XV gameplay footage was showcased at EGX in Birmingham during a PlayStation Access livestream session.
If you wish to keep everything as a surprise for the first time you play the game then I would recommend not watching the videos provided near the end of the article.
I had an opportunity to play FFXV during EGX and it was a short but sweet experience with highly engaging combat set in gorgeous landscapes – with a chocobo barn behind me.
If you're at @EGX come by Wiz Chocobo Post on the Square Enix booth! #EGX2016 pic.twitter.com/XaqxZbjh3V

— Final Fantasy XV (@FFXVEN) September 22, 2016
FFXV was first announced back at the 2006 E3 as Final Fantasy Versus XIII exclusively for PlayStation 3. Since then the game was renamed and announced for the newer generation of consoles even though the game was rumoured to have been cancelled. The title was originally going to release for September 30 however to avoid a massive day one patch the release was pushed back to November 29.
In a recent interview with Hardcore Gamer, producer Hajime Tabata was asked whether or not if the game will have a day one patch, he stated, "So [we're] not dismissing the patches or the DLCs whatsoever, but when looking through the disc, we wanted to ensure that the level of quality is met in terms of what we'd like to deliver on a standard Final Fantasy release, as well as something that surpasses that quality." 
So there is a possibility that the game will be released with a day one patch, however won't be as hefty since it has been pushed back a whole month for any final touches.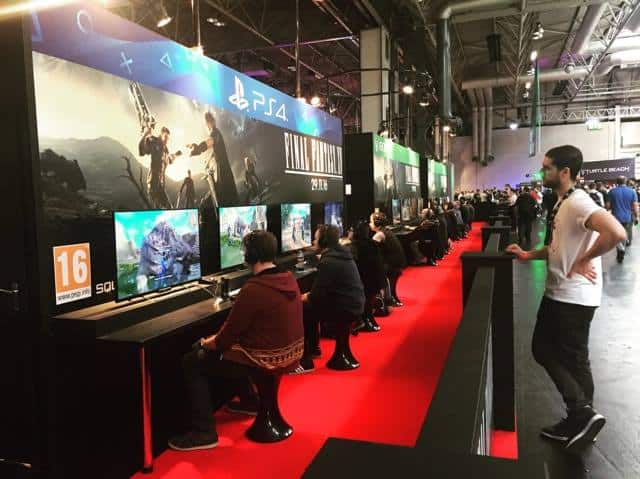 Recent gameplay footage and trailers over the past couple months have shown leaps in progression for this highly anticipated JRPG and this gameplay video shown on the Xbox One doesn't disappoint, even if the resolution is a little bit lower compared to the PS4 that runs at 900p whereas the Xbox runs it at 720p.
Dual shockers managed to capture the footage from EGX and they can be watched in the videos below:
Players will now be able to choose their dialogue such as accepting or declining contracts to kill monsters around town or doing them for free. This was highlighted when Noctis and co were pursuing monster hunting contracts at a cafe they stopped at whilst on the road.
Character progression revealed how players work towards character-specific advancements depending on their role in the group. Noctis's skills for instance make use of Warping abilities whilst Ignis focuses on buffing allies and debuffing enemies with his Marks.
A predominant element featured in many trailers and gameplay videos is the Regalia, the stylish vehicle that Noctis and co get around with which is also customizable just like the characters. Players have the option to change the interior colours to cranberries & cream, dark rose or even mint chocolate, while the body of the car have their own array of options.
Final Fantasy XV will release on November 29 for Xbox One and Ps4, however with the release of the PS4 Pro scheduled to release in November, FFXV is one of the titles that will be enhanced for the system.
For more news from EGX don't forget to follow us on our official Twitter pages @Geestaar74 and @Hackinformer.