While I was at EVO I always like to see if any indie developers are out there showing how their new game off. Out of several of them I check out one puzzle game caught my attention called Tricky Towers. At first glance, you might think to yourself "oh this is just another Tetris clone" instead, think of it like Jenga with Tetris-like blocks or building a house of cards.
In Tricky Towers, the object is to build, not make lines disappear like Tetris, it's a physics-based tower-builder. You can play offline, online and up to 4 players. In single player, there are three game modes which change while you play. The first one is where you build a tower up to a certain height within the time limit, but watch out as the little wizards have some tricks up their sleeves to slow you down.
The next one is like a jigsaw puzzle where you have to fit all the pieces together under a barrier line, if you don't do it right, it's game over and try again.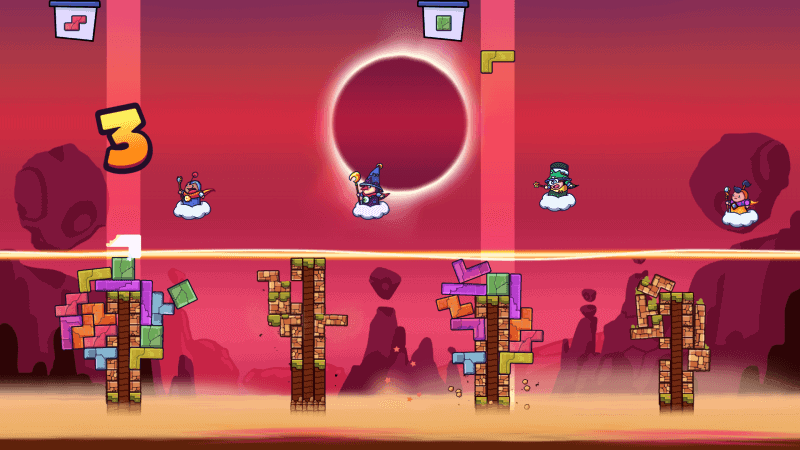 The last mode is a straight build your tower but those little wizards will try to mess you up again by locking pieces, blocking your view, and turn pieces into building parts like a door or castle. 
You do get spells to help you out but I wasn't using them right and sometimes could make building my tower even harder. Now my wife and John our editor here at HI, just seems to just have a knack for the spells and the right time to use them. We had a great time playing the multiplayer and battling it out to see who could out do the other or mess up them up while building their tower.
Features
Frantic physics action puzzle gameplay
Local and online multiplayer with 2-4 players
3 different multiplayer modes; race, survival, and puzzle
Challenging single player trials
Leaderboard mode; compare how you stack up
17 Powerful light and dark magic spells
Full controller support
Awesome music composed by Jonathan vd Wijngaarden
Release date:
8/2/2016
Platforms:
PS4 and free for PS Plus members
PC
Website:
trickytowers.com
Price: €14,99
Price: $14.99