Today I'm here to present you a new upcoming device shaped for gaming, I'm talking about the PGS – Portable Gaming System.
Since the early days of home gaming entertainment, big companies have pleased us with those small beloved Handheld consoles. Nintendo with Gameboy and all his versions, Sega with GameGear and recently Sony with PSP, the best (my opinion, I don't want to start a drama) portable console.
Through the years, the portable gaming has become more intense, just think about casual gaming on smartphones or (through hacks) the emulation of old games on the already named PSP. With the advent of the new generation of Home Consoles we have experienced the remote play service on Ps4 and XboxONE, But thePCc gaming has always had its share of fans , effectively splitting into two categories of gamers.
Well, this era is about to finish with this new project by Portable Gaming Solution Lab.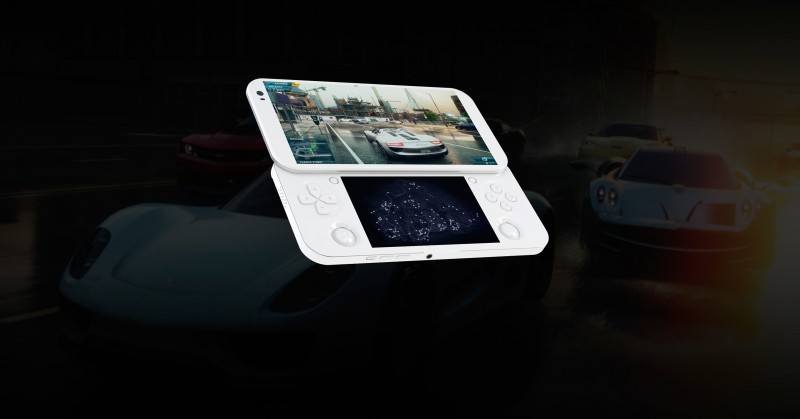 PGS is a portable gaming console with Windows onboard (also comes with Android in Dual boot mode), which will be capable of running all games for PC, including those of AAA class of the current generation. Here some info directly from PGSLAB:
– TECHNICAL PARAMETERS –
CPU – Intel® Atom™ x7-Z8750 Quad-Core 2.4GHZ
DISPLAY – QHD IPS 2560×1440 (5.7*) (HD IPS 1280×720 (5.5*) for PGS Lite)
GPU – Intel® HD Graphics 600 MHz 16 cores
RAM – 8GB LPDDR3 1600 (4GB LPDDR3 1600 for PGS Lite)
OS – Windows® 10 (64-Bit), Android 6.0
STORAGE – 128GB SSD (64GB SSD for PGS Lite)
COMMUNICATION – 802.11a/b/g/n/ac + Bluetooth® 4.0 + 3G/LTE (without 3G/LTE for PGS Lite)
BATTERY – Li-Po 6120mAh battery (Li-Po 4080mAh battery for PGS Lite)
ADDITIONAL – USB 3.0 Host, HDMI 2.0 Host, 3.5mm combo, Built-in 5.0 speakers (2.0 for PGS Lite), Built-in cam and webcam (8.0MP/2.0MP) (5.0MP/1.3MP for PGS Lite), Second HD IPS display (4*), Telescopic analog sticks (basic analog sticks for PGS Lite).
SIZE – 164.1 x 84 x 1.8 mm (160.0 x 81 x 1.4 mm for PGS Lite)
WEIGHT – 320 g. (245 g. for PGS Lite)
– CHIPSET AND PERFORMANCE –
This device is based on a system with Cherry Trail chipset from Intel and Atom x7-Z8750 quad-core processor as the heart of it, as well as built-in HD Graphics video card of the current generation. Even though the performance level of such system is not as high as for the most advanced classic desktop solutions, it still can run the vast majority of modern games in HD-resolution and minimal graphics level. We didn't want to use processors from Core M line intentionally, because even though the have a higher price and power consumption, they are not significantly more powerful than x7. Preliminary tests of our prototypes gave us the following results:
Batman: Arkham City | medium-level graphics, HD-resolution, 27-32 FPS.
Metal Gear Rising: Revengeance | medium-level graphics, HD-resolution, 30-35 FPS.
Dark Souls 2 | medium-level graphics, HD-resolution, 32-37 FPS.
Mirrors Edge | minimum-level graphics, HD-resolution, 26-31 FPS.
– OPERATING SYSTEM –
The main operating system of PGS is Windows 10 (x64). Keeping in mind that our device is using the PC-compatible architecture, you are free to install on PGS not only games, but also any type of software, which was created and developed for PC. The level of performance allows users to run even such demanding programs as Z-Brush, 3D Max, After Effects and many other. It's obvious that you can also install Steam to download and play games from your library. In other words, you are getting not only the functionality of a portable console, but also a mini-laptop, which can be connected to a display, wireless manipulators in order to use it as a basic replacement for your classic desktop PC.
The secondary operating system is Android. Keeping in mind that the device is equipped with a LTE module, you are able to use this device as a high-performance smartphone, call, write SMS and do other things any time when it's necessary.
– RAM AND MEMORY –
The console has 8GB of LPDDR3 RAM onboard, which uses 2-channel mode. Such volume of RAM can't be considered as low even for a desktop, thus, it's not going to affect the performance level of our product. Talking about permanent storage space, we can say that the console is equipped with an SSD-disk of 128GB. A MicroSD card slot allows users to get up to 256GB of free memory.
– COOLING SYSTEM –
This device is equipped with a passive cooling system (a copper radiator, which transmits heat to the case of the device), which allows avoiding processor overheating, as well as one very annoying thing, which is called CPU Throttling. Keeping in mind almost miserable TDP of the chipset, our device will never reach uncomfortable temperatures.
– MAIN DISPLAY –
The main display of the console has QHD-resolution (HD for PGS Lite). Why not FHD? The thing is that HD-resolution is an optimal one for games to play with such diagonal. Only, QHD allows showing HD-stream without any distortion, drawing 4 pixels instead of 1 physical. The display is using IPS technology, which provides high brightness and contrast, impeccable color accuracy, short response time and wide viewing angles. All these features are supported with an average level of power consumption and low price of the matrix.
– ADDITIONAL DISPLAY –
We are really proud with the additional (lower) display of our console. It supports HD-resolution and also uses IPS technology. This display can serve as the second monitor (basic Windows functionality), a touchpad and a virtual keyboard. When used as the second display, it can show virtually everything. It can be an image, web browser, media player, and many other applications.
– COMPOSITION AND MATERIALS –
The main materials of PGS are ultra durable plastic and aluminum. Metal is used for all the elements, which require metal, while plastic – for all the elements, which require plastic. A simple and elegant approach.
– AUDIO –
PGS is equipped with a 5-channel sound system. Even though the device is pretty small, you will easily feel 3D effect in games, which support it. High-quality speakers will provide you with crystal-clear and expressive sound, which can fill even an average room or a premise.
– CONTROLLING ELEMENTS –
In order to be called a gaming console, especially on Windows, our device needs a full range of physical controlling elements. PGS has all necessary elements, including even analog sticks, triggers, and other keys, which are necessary for all the games, which support gamepads. You don't have to spend your precious time, setting necessary keys manually, because all input devices of PGS are using DXINPUT emulation mode.
In order to play games, which don't support gamepads (old games, or RTS games), you can always reassign key actions, making them typical for any PC-keyboard. Analog sticks can also emulate a computer mouse movements and actions. Don't forget that you can use the additional display as a touchpad.
– STREAMING –
If we are talking about games streaming from more powerful devices, PGS becomes the most universal among all miniature gadgets. Our device perfectly works as with Steam streaming, as well as with XBox One and Playstation 4 streaming. This situation became real due to use of high-performance components in the device and a WiFi chip, which supports broadband data transfer. It doesn't really matter if you use one network or just your internet connection because in both cases you will be able to continue your game on your portable device.
– POSSIBLE PRICE –
We are lucky because Microsoft graciously gives free Windows 10 licenses for all devices with the diagonal less than 10 inches. Furthermore, very lavish Intel company currently actively subsidizes its Intel Atom processors. All these factors together allow us to choose a price of around 250$ (210$ for PGS Lite).
We at hackinformer.com are in touch with PGSLAB and of course, we will give you all the updates as soon as possible and obviously we will give you a full review of the device once it's ready for the market.
At the moment, the device is in an early prototype state but the CEO of PGSLAB says that the development of the final product goes at high speed and if things follow this line, we might be able to get our hands on this wonderful device before Xmas.
Meanwhile, you can check the official page PGSLAB.COM and as always I invite you to follow me on Twitter @roccocannale for further updates and obviously stay tuned on Hackinformer for the review.
See ya!