Released exclusively for the Japanese arcade scene, Examu's latest mash-up speaks to both fans of fighting games and visual novels, and is now primed for the PlayStation family of consoles with a special bonus!
By combining an all-star roster consisting of the most popular visual novel characters from Japanese publisher Nitroplus, Examu brings their expertise to the genre with previous similar works like AquaPazza: AquaPlus Dream Match and the Arcana Heart series; chances are if you enjoyed those, this one is a sure bet.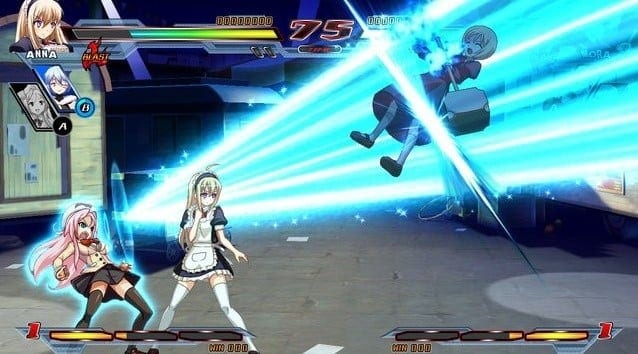 With 14 playable characters and 18 support characters for 32 in total, Nitroplus Blasterz Heroines Infinite Duel features a five button system (light, medium, heavy attacks + heavy and escape action) that focuses on interrupts via an "infinite blast" move.
This combined with 2 support characters, an extremely fast pace, as well as individual fighting styles per main makes for some exciting anime action, all in the "animation-to-life" presentation that Examu is known for.
Amongst the roster, there are characters like Saber (Fate/stay Night), Homura (Senran Kagura), Aino Heart (Arcana Heart) and a wealth of others, but specifically for the PS3 and PS4 version, Super Sonico is an actual playable main, whereas she was only a support character in the arcade version.
For the special versions, both versions are packed with premiums! Both Limited Editions and ebten Limited Editions include a 3D Crystal Art trophy by Tsuji Santa, the OST, a Visual Book, Swimsuit Costume DLCs; only the ebten Limited Edition comes with a unique wall scroll.
The day one normal edition includes a playable Aino Heart from Arcana Heart 3: Love Max Six Stars!!!!!! and Homura from Senran Kagura: Estival Versus, as well as wallpapers for the PC, Smartphones, PS3 and PS4!  Release: December 10th, 2015 (JPN) January 2016 (US)
Nitroplus Blasterz: Heroines Infinite Duel