The Razor Forge TV is it just another Android gaming and entertainment box for the big screen. While I was at CES I had a chance to play with the Forge TV and I got to say it was pretty sweet machine. The Forge TV didn't have any games that pop out screaming play me. The overall experience with any game that was available to play on the system was very smooth and barely any loading time.  The Forge TV is also Google play compatible, so any game you have already bought can download on it.  The specs on the Forge TV are top notch, as I could see this playing all of our favorite emulators at full speed (like ppsspp)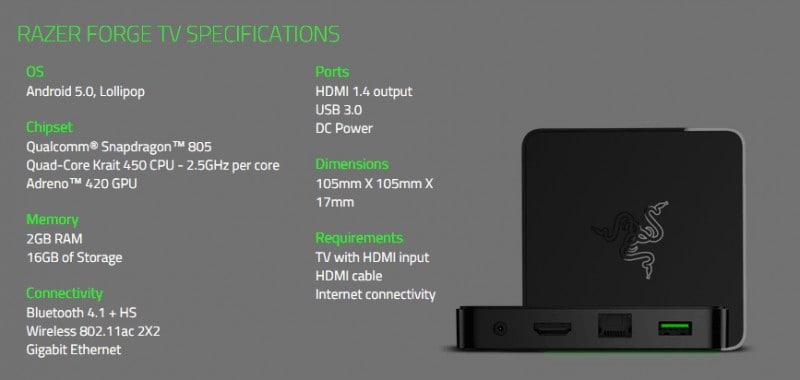 You can also control Razer Forge TV by downloading the remote app for Android or iOS mobile devices. This easy-to-use companion app allows voice search or touch navigation by simply tapping the interface D-pad or using intuitive gestures like swiping in various directions, so you never have to take your eyes off the big screen.
Now the Razor Serval controller was the best part of the whole system, as it just felt right while holding it in our hand. I wouldn't expect anything less from razor, because they have some of the best products on the market. You can even use the Serval game controller on most Android devices and it can be pair to four different devices. So together with an adjustable game clip for your mobile phone, the Razor Serval can be used for a multitude of functions, making it the ultimate controller for gaming on any Android devices.
The rumor price for the Forge TV was a $100 and it does not include the controller, just like the PlayStation TV where you can just buy the system or get the bundle with the DS3. For me the Forge TV felt just like any other Android Box out here, it just has better specs. So are you looking forward to this product or do you think it's just another Android TV. We like to hear what you have to say about the Forge TV..