How to create and install a PBOOT.PBP Homebrew Bubble
---
Working for Firmwares: 1.00 - 3.57
PlayStationTV compatible: Yes
Difficulty: Easy
Time: 5 min

Credits: qwikrazor87

Note: Your 'basegame' will be replaced by the Homebrew bubble and thus not be useable anymore!

Note: Several reports showed this method/tutorial might not work or something essential might be missing as all tests result in a red screen! However to solve this problem we would need to wait on qwikrazor87's return.

This tutorial only follows qwikrazor's steps described in his readme!! So better don't bother with this as it's easier to set up a launcher bubble to directly start VHBL or eCFW anyways..
Step 1: Downloading all necessary files
---
1) Download the PBOOT_homebrew_loader.zip archive if you haven't already and extract it.
2) Download the PBP Unpacker v0.94 installer if you haven't already and install the programm.
3) At this point you should already have any Homebrew you want to create into a Bubble. For this tutorial I will use VitaFTP as example.
Step 2: 'Signing' your Homebrew
---
1) Use PBPUnpacker to unpack your Homebrew EBOOT.PBP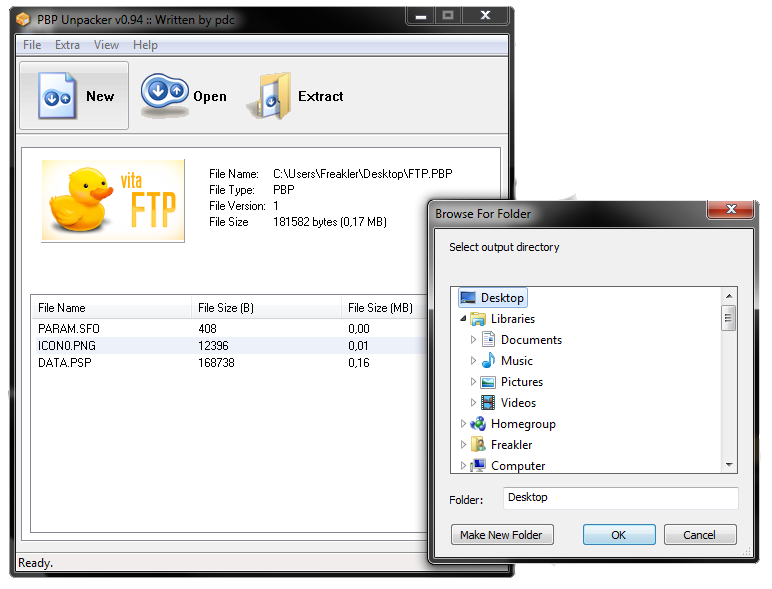 2) Delete the PARAM.SFO and rename DATA.PSP to DATA.PSAR (if your Homebrew happens to have a DATA.PSAR delete it and hope that your homebrew will still work)
3) Open the other PARAM.SFO from the loader with PBPUnpacker or any Hex Editor and edit the Title to your Homebrew name

4) Use PBPUnpacker to repack all files to a PBOOT.PBP
Step 3: Installing the PBOOT.PBP file
---
Method 1: If you have VHBL, ARK, VitaFTP with no PBP write restriction (3.36 and below)
---
Method 2: If you're on 3.00 - 3.52, got no exploit and your HB is under 2MB
---
Method 3: If you're on 3.50 - 3.52 and your Homebrew is over 2MB
---
Method 4: If you're on 3.55/3.57
---
All you need to do now is to either rebuild the database or transfer your game to the PC and back to make the PBOOT.PBP take effect.
(You can access the Recovery Menu by powering off your Vita completely and press and hold HOME + POWER + R-TRIGGER)
Note: Rebuilding your database will make any other app.db depending hacks and tricks disappear. The PC method might be the better choice here!
Done! :)
FAQ & Troubleshooting

---



How is the compatability to homebrews?!
It should be as good as the basegame.
When I start my Bubble it only shows a red screen!?
Something obviously went wrong.. Start over again.