Description:
【See Your Inner Steam Deck】This transparent back cover will let you see all the hardware of your Deck. Thanks to the transparent plate, you'll be able to identify every little component in your handheld device while sporting a unique design.
【Customize Your Steam Deck】The transparent cover also comes bundled with three sets of rear buttons (each one with a different height) that will let DIY enthusiasts make their Decks even more unique.
【Enjoy a New Rear-Button Design】Each set features different heights (original, high, and low), suited for all kinds of players. Each button has a more durable, anti-slip, premium texture.
【Keep Your Deck Cool】The back cover comes with thermal grease as well as a heat-dissipation aluminum sheet that enhances heat-dissipation performance.
【All-in-One Set】Included in this set are 1x transparent back plate, 1 x screwdriver, 1 x disassembler stick, 1 x thermal grease (already attached to the back plate), 4 x original edition buttons, 4 x lower buttons, 4 x higher buttons, 16 x button screws, 10 x back plate screws, 10 x anti-static finger gloves.
Specs:
Brand: JSAUX
Product model: PC0106
Product material: Polycarbonate + Aluminum alloy
Product Dimensions: 150mm (L) x 117mm (W) x 32mm (H)
Product Weight: About 126g
Item list:
x1 Transparent back plate
x1 Screwdriver
x1 Disassembler stick
x1 Thermal grease (already attached to the back plate)
x4 Original edition buttons
x4 Lower buttons
x4 Higher buttons
x16 Button screws
x10 Backplate screws
x10 Anti-static finger gloves.
Pros:
Canned Heat. This case has a built-in thermal pad that draws heat out and away from the CPU. It disperses it across the metal pad on the back of the shell. This pad is above the vent on the back. The bottom line here is that I don't have a true method for testing thermals on a device like this. But I can definitely tell you that by using logic and common sense, something is happening. Heat is definitely being pulled to the backside and is hot to the touch. Now, I'm not saying this is so hot it will cause burns. The Steam Deck runs at 60-70 celcius/~145 Fahrenheit. But with the fans, vents, and this, you won't be feeling that kind of heat on the back of your Steam Deck.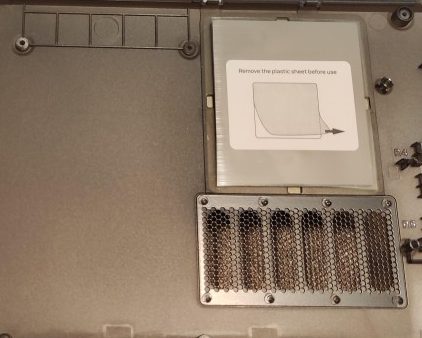 Instead, you'll feel the heat and have more peace of mind that it's definitely doing work for you. But still, please be careful and don't deliberately touch it for fun. THE PRICE, BRO! This is an unbelievable deal at only $30 U.S. dollars! I have yet to see it on sale, but if $30 is too steep for you, just keep your eyes on the @JSAUXofficial Twitter account. They'll likely mention if they have any sales happening.
That's a Paddlin'.
Paddles, or whatever you like to call them, are the buttons on the back of the Steam Deck (L4, L5, R4, and R5). This kit comes with a few extras so you can have different depths for different purposes. The paddles come in three different depths that are color-coded. Let's go through them quickly and simply. Yellow stickers are closest to the feel of stock paddles. But I would swear that they are a millimeter or so taller. In other words, if you like the default paddles and wish they were a smidge taller, these are for you. They fit fine with a case on, by the way. The red stickered paddles are the closest thing I've felt to matching the paddles on a Steam controller. So if it's your jam, then so will the red stickered paddles. These also fit just fine with a case on your Steam Deck. Blue stickered paddles. These are for people with larger hands who constantly press the back paddles in an accident. So you long-fingered readers can install these and not accidentally bump them in and create a phantom button press. The silicone case is the only cover that I found that plays nicely with the blue paddles.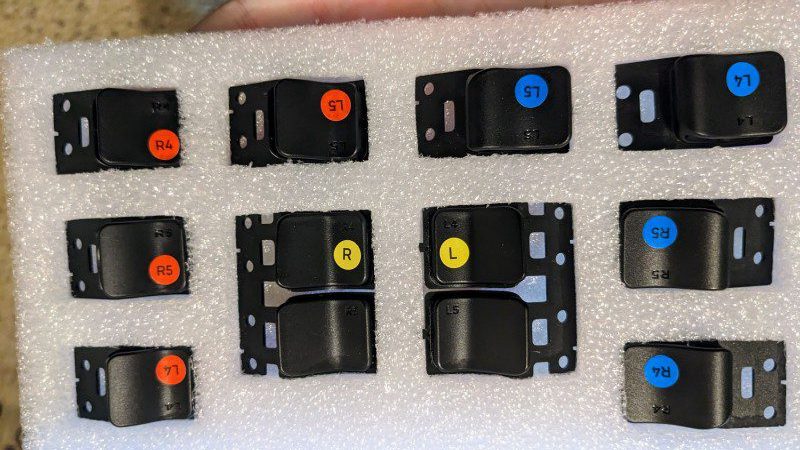 It's hard to pick a favorite out of the three after using them all for an hour each. I don't have the issue of accidentally bumping the stock paddles with my fingers. So I don't really prefer the far out blue stickered paddles. And since they're so far out, I can't comfortably press them accurately. Even the red stickered ones don't feel very natural to me being lower. I guess I like the OEM paddles so much that if I had to pick, it'd be the yellow stickered paddles or just use the stock. The paddles are easy to change out though. Just remove the back plate and unscrew the paddles from their post and then put in a new one and screw it in place, return the back plate.
Also, note that most protective cases won't work with some of the custom paddles, and even the new mod case doesn't support all of them and only likes the yellow paddles.
Colors:
I do love that they went with a colored transparent. I also like that they made it a bit opaque as well. Seeing components through a completely clear shell always seemed, cheap looking to me. No, JSAUX took the smart route and followed in Nintendo's footsteps. It is such a good idea, I had friends texting me telling me I should buy it. Friends who don't even have Steam Decks. They just know that it's a sexy look that matches my aesthetic. I think it would match anyone's Steam Deck since it hits the retro vibe of a Nintendo handheld.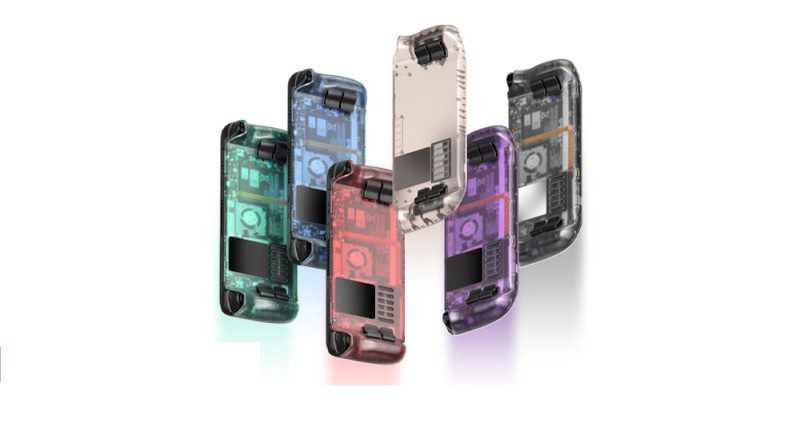 JSAUX is also releasing new versions in five different colors and the same semi-transparent style as users' favorite classic handhelds. All kits feature three replacement sets for the handheld's rear buttons in different heights (original, lower, and higher), plus a collection of tools to help users install the backplate easily, just like the one we are reviewing.
We got our hands on several different colors and our team members with Steam Decks all installed our favorite color. The general consensus across the team is this; they look great and are total conversation starters. It used to be that people would say "Oh wow, what is that device you're playing on?" and then you'd tell them all about the Steam Deck. But now most people know what the Steam Deck is. Now they ask "You can buy a Steam Deck in custom colors?!" and you have to explain that they only come in one color but a company sells the backplate in several colors for less than $40. So the Steam Deck users who didn't know about colored backplates then head over to the JSAUX website and get their hands on not only backplates but other products too (see here and here).
Assembly:
We talked about it briefly before, but I do want to talk about it again in a bit more depth. Assembly is quite simple. I have a video showing how to do it below. But basically, it's 8 screws that come out. There are four shorter screws in the center area and four longer ones around the outside edge. Make sure to not mix them up!
The new plate goes in with the aforementioned paddles, then the 8 screws go back in. Please make sure you're comfortable, confident, and experienced doing a swap like this. Sure, it sounds simple, but you are still opening an electronic device and exposing yourself and the item to certain dangers. If you're not sure what kind of danger you could be subjected to, it may mean that you're already not experienced enough to do this. If you're already aware and know how to proceed with a shell swap, then this should be second nature to you.
Cons:
This is more of a warning than a complaint. However, you should be aware that when I mentioned that the back plate will snap on first, it won't be perfect. As far as I could tell, this isn't only affecting my own back plate, but also others. What's happening is that it doesn't snap fully into place at the top. This happened with my first iteration grey backplate as well as our newest colored ones. Don't worry too much since the whole thing is quickly remedied once you screw the back plate down. The main problem would be if you were swapping paddles and lost a screw to the back plate, now you run the risk of it not staying snapped down in key places.

Final Thoughts:
This back plate from Jsaux is a great product that is extremely well-built for their first run. It now comes in different colors, which makes your Steam Deck even more unique and stylish. I will say that I did see a performance gain after installing the new backplate with the aluminum heatsink, but now it has a super hot spot on the backplate. So be careful, as temps on the plate can get up to 120 Fahrenheit, but the rest of the deck stays nice and cool.
Even JSAUX website says "Because aluminum has such good thermal conductivity, it will be hotter than other areas when touched. Be careful not to touch it to avoid being burned when you use your Deck."
This is a great product for anyone who wants to customize their Steam Deck.
Purchase Links