Since the release of the Steam Deck, there have been all kinds of accessories popping up but computer accessories maker JSAUX has really taken the scene by storm with their lineup of docking stations, protective shells, glass screen protectors, and more for the Steam Deck.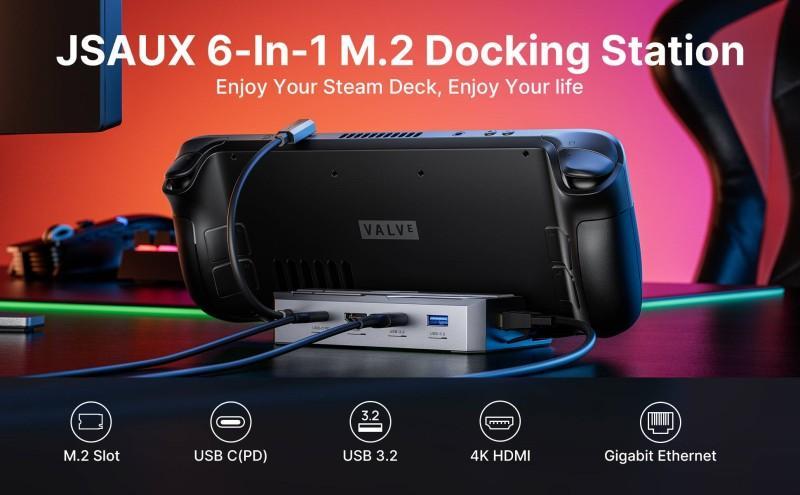 Last month JSAUX released a new docking station (HB0604) for the Steam Deck that comes with a built-in M.2 slot for NVMe SSDs. The M2 dock is a 6-in-1 docking station that has two USB 3.2 ports, a single USB-C port with 100 Watt charging capabilities, HDMI 2.0 port supporting 4K@60Hz/2K@120Hz output, and a gigabit ethernet port for wired internet connectivity.
JSAUX has also started to include a 65-watt universal charger as previous units did not include one. Now if you purchased the M2 dock (Model HB0604) before 12/14 you will be sent the 65-Watt charger to go with your M2 dock.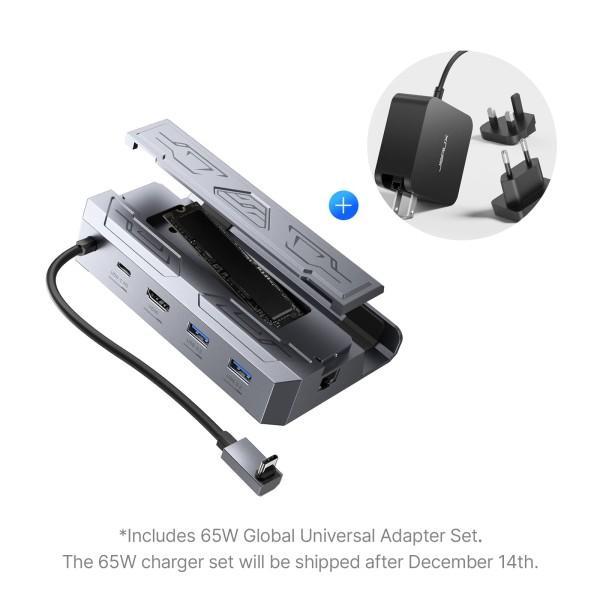 SPEC:
Model# HB0604 M2 dock
M.2 Slot supported sizes: 2230 / 2242/ 2260 / 2280
M.2 Slot speed: Up to 900MB/s
HDMI: 4K@60Hz / 2K@120Hz
USB-A: 2 USB 3.2 ports
USB-C: PD 100W Max
LAN Port: Gigabit Ethernet port
For the past week, I've had the pleasure of testing the M2 dock and can say it does everything it claims it can do. The build quality of this docking station is top-notch and holds the steam deck perfectly in place.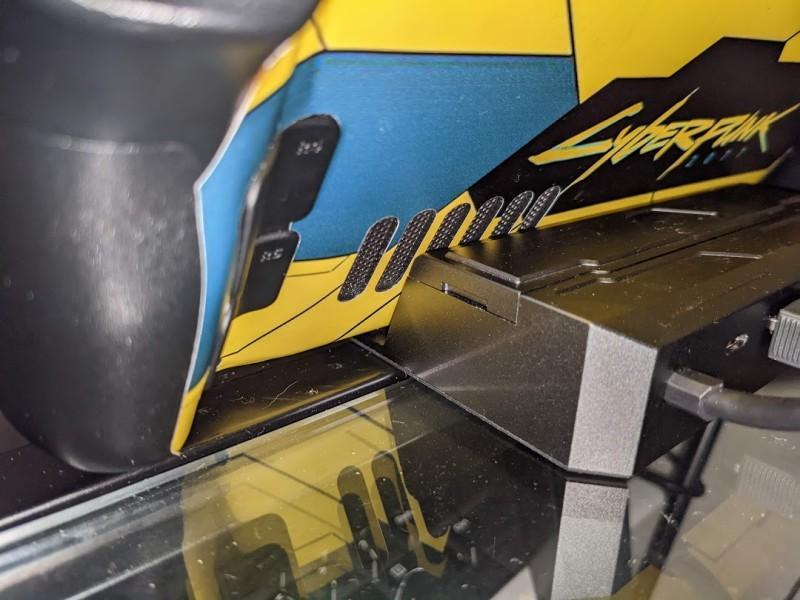 There is one minor issue with the height of the dock as it can semi-block the air vents. The easy fix for this is to just push the deck to the right a little or add a little bit of padding to it to push it off the dock. The first one is easier and still holds the deck just fine but it will look slightly off-center.
The M2 dock's gigabyte ethernet port was rocking my internet and pushing it to its maximum capability. This is to be expected when you have a gigabit ethernet port. We recommend leaving your dock wired. This way, as soon as you connect your dock's USB-C cord to the deck, you'll be connected to a hardwired internet connection.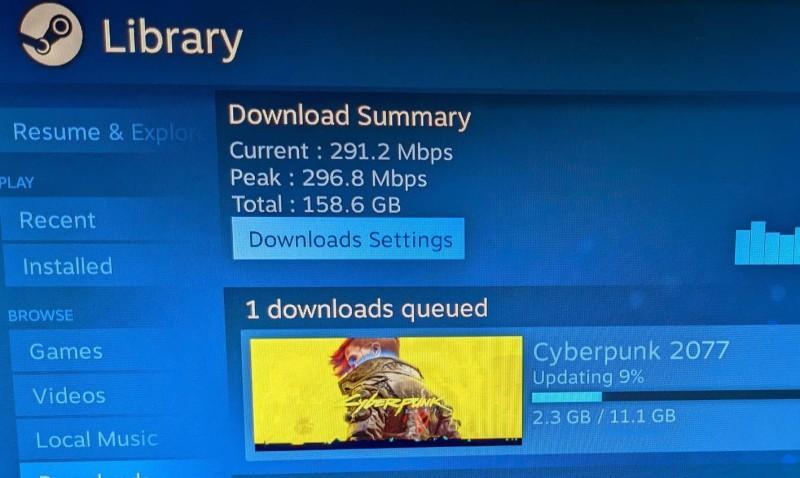 The picture quality with the M2 dock is just gorgeous. It really brought out all the colors on my QLED TV making it look so vibrant. Your mileage may vary, especially if you have a 1080p HDTV. However, whatever TV you use with its various features, this dock is still going to max out your Steam Deck's potential for you. Some video game consoles, for example, start on a lower resolution until you tell the console to max out its resolution.
The bad part about 4K resolution and the Steam Deck is that it's capable of doing it but the Steam Deck can't really handle that type of resolution in the game. If you do go up to those settings the performance in the game you are playing suffers dramatically and almost becomes unplayable. The M2 dock can do 4K and has no problems with it but it all relies on the steam deck and if it can handle it or not depending on the game.
The M2 storage of this dock is it big draw-in with it built right into the dock. So there's no need to hook up an external drive. You can still hook up external drives as well if you'd like but is no longer necessary. This dock can handle up to 2TB but is reported to work up to 4TB. The dock can also use a variety of M2 SSDs like 2230, 2242, 2260, and 2280. Installing a new M2 SSD is super easy to install by just removing the rubber stopper, so no tools are required it's a simple plug-and-play design.
The dock's data read speeds were 900mb/s and the write speed was 890mb/s. Now, this is where you could see some performance differences between using a standard external drive or microSD card to install/load games. I've included a picture below of my test results for you to look over.
There is one issuw about using external storage devices in game mode. Basically, the Steam Deck doesn't know other formats and how to mount them on the fly. If you're using NTFS, exFat, or Fat32, put the drive into ext4 filesystem format using KDE partition manager. Once you do this it will erase everything and become a Linux drive only but the Steam Deck will see it from now on even in game mode. As for Windows, it will not know what it is any more because of the file system format. JSAUX has also written up a script to make the Steam Deck auto-mount the M2 storage if it gives you any issues mounting in game mode. Even though SteamOS was updated recently to mount external drives in ext4 file format.
If you're dual booting the Steam Deck the M2 dock really shines making Windows 10 or 11 run much smoother. Most UHS-I microSD cards have a max speed of 104MB/s, while UHS-II and UHS-III can reach 312MB/s and 624MB/s as where the M2 dock has a max speed of 900MB/s, that's a big difference. At this point, the Steam Deck turns into one little badass desktop PC. Again, see the results below.
Thoughts:
Now, this docking station might not be for everyone. The price tag is just a few dollars more than the official dock. But I'd remind you that the OEM dock is without an M2 SSD.
So if you plan to upgrade the M2 SSD in your Steam Deck you could put the old one in this dock. Just something to think about especially if you were going to pick up the official dock. Well, that's just one way to look at it.
For me, this M2 dock is definitely worth picking up. The build quality is fantastic and not cheap at all. The picture quality is spectacular and the colors are spot on. Plus having a gigabit ethernet port is just killer. Then using the dock to run a dual boot setup is perfect, it's like it was just meant to run windows on the Steam Deck. This M2 docking station is definitely meant for the steam deck enthusiast or tinkers.
In the end, is it worth it for you? That just depends on you but I would recommend it to anyone that wants a top-level dock with amazing features.