Ever since the PS4 was hacked way back on 1.76 one thing many of us were waiting for was Homebrew and emulation and now that time has arrived. With the introduction of psxitarch by the PSXITA Team for the PS4, many of us have been enjoying running Linux on our PS4.
Today I will show you how to play some of your favorite games on your new favorite emulation station the PS4, thanks to the PSXITA Team and psxitarch. To begin with, let's talk about one of the best short-lived systems that has ever been produced, the Sega Dreamcast.
This guide will assume that you have installed psxitarch v2 on your ps4 and have the latest update. If you need help with the installation check their site for more information in the link below.
Items that will be needed for this will be
Psxitarch v2 Linux installed on your  5.05 PS4 or PS4 Pro
A separate USB drive or ext HDD to hold your Dreamcast games 3.0 is best (this is not necessary but will alleviate load times and speed issues).
Dreamcast bios, just the boot.bin and flash.bin (Dreamcast BIOS are not needed but highly recommended especially if you plan on saving)
Some Dreamcast games
Just a little patience
That being said let's begin, make sure a USB drive or USB hard drive that is formatted to FAT32.
The next thing is some Dreamcast games in either. CDI .GDI or .CHD format or better yet RIP your own discs.
Now that you have your games place them on your FAT32 hdd or USB stick in a folder labeled Dreamcast to avoid confusion.
Downloading and Setting Up redream
Now start up psxitarch on your PS4 with VRAM3 wait for it to load and then plug in drive with games. Then go to the top left for the drop down menu and find the Firefox web browser that should already be installed with psxitarch v2, then go to here redream and sign up for free (or even purchase a license for it to get more HD options).
Download redream, make a folder  labeled emulation and place the folder label downloaded from the redream  and unpack them.
Now now you will want to place the Dreamcast boot.bin and flash.bin inside of the redream folder. Then just click the redream cog to start.
The first screen you should be greeted to is how you set up your library. This may get a little confusing so here is a simple guide step-by-step to help.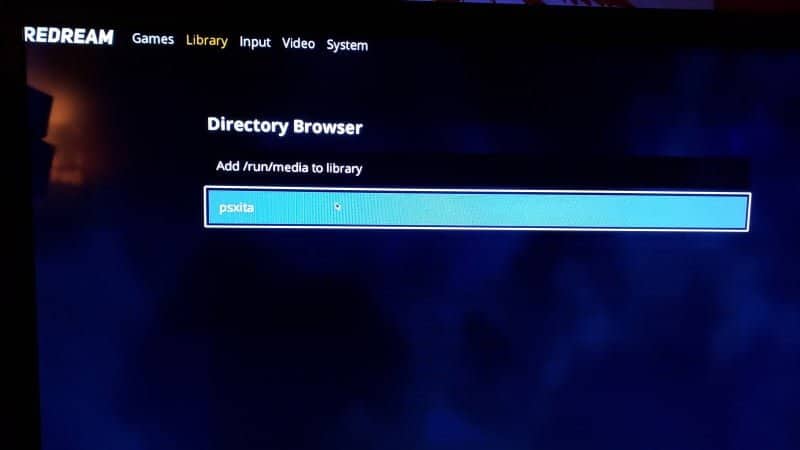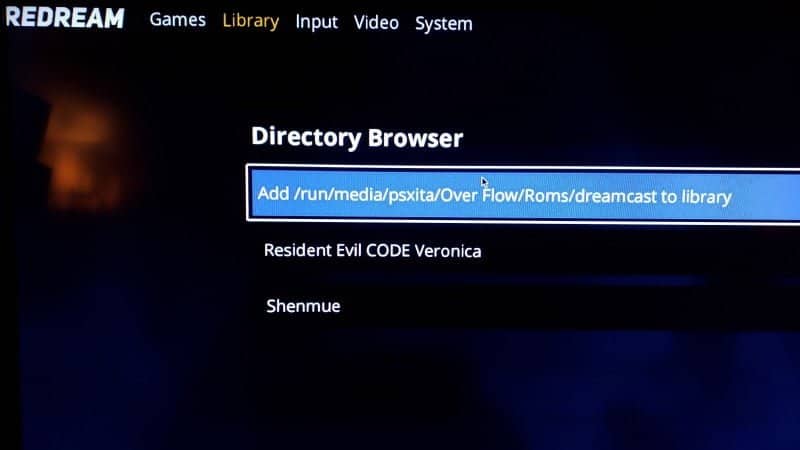 Upon doing so you should be greeted by your library games.
Don't be surprised if some of the cover art is missing, the scraping tool with redream doesn't always find the art. Once that is done you can select input and you can change the layout of the controller's buttons although it is a very comfortable setup.
In video options, if you want it to play full screen set fullscreen to true aspect ratio is entirely up to you 4:3 will make it the standard way the Dreamcast was displayed and of course 16:9 will give you widescreen.
In system options, you can set your region your language. Also how you want the signal to be broadcast and what kind of connection cable is emulated I recommend RGB or VGA to give you that beautifully saturated color. and you can also boot to bios if you have placed the boot.bin and flash.bin in your redream folder.
Boot into the BIOS
This will allow you to manage the four virtual cards (VMU) that starting the system will create for you.
Now all that is left is to pick a game and relive some of the best gaming Sega has had to offer, the underrated Sega Dreamcast.
I hope this has been helpful for those of you that have been longing to relive the golden days of the Sega Dreamcast.
If you have any questions feel free to leave them in the comments or ask me directly.
Thanks for reading and remember to keep doing it for the love of the game.
SOURCE: