The title most likely led you here as you might not know what the N100 does. And rightfully so, this product is barely advertised. But if you look around on sites with Switch accessories in other countries other than the US, then you start to see it show up. So what is it? What does it do? Does it do that task well? Are there better products on the market for said task? Don't worry dear reader, we will get through all of this. Let's jump into this review of the N100 from Cooz, for the Nintendo Switch.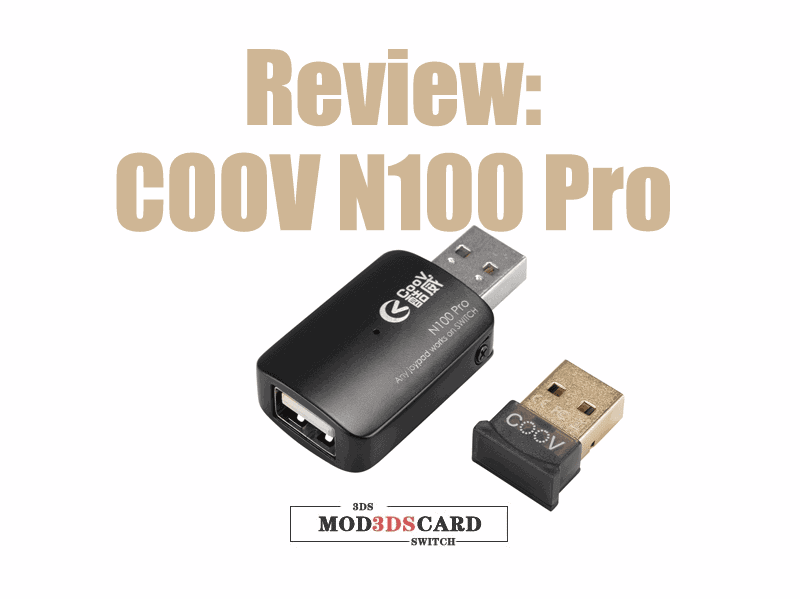 Description:
'CooV N100 pro adds support for bluetooth based on N100, which not only has all n100 features, but also connects bluetooth handles via bluetooth. N100 Pro has a variety of functions such as button wizard, continuous trick, one-button burst, key map, linear control, one-button wireless loop, and a variety of game scripts. The wireless converter can connect to most of game hosts, bring uses carefree playing experience. It supports somatosensory or vibration of some game hosts. It supports PS4, NS Pro, Joy-Con, Xbox One Slim, Wii U controller wireless connect to Nintendo Switch, PS4, Xbox One Consoles. '
Features:
'Best converter for game handle, built-in all functions of N100. DS4, NS Pro, Joy-Con, Xbox one slim, wiiu and other mainstream handles connect to hosts of Nintendo SWITCH, PS4 and X1 by wireless link. With a USB BT 4.0 adapter, farther and stabler. The USB adapter can connect to BT speaker, BT headphone box, mouse, keyboard and mobile phone. Regularly updated firmware and a variety of game scripts enhance experience of users.'
Unboxing:
Pros:
I just need to state this right off the bat. This is the best out of any Chinese based product that I've ever used. The fact that it's made out of actual metal is a great benefit for both immediate durability and longevity. There is an LED indicator on the top side of the device. It is used for multiple reasons. It flashes to let you know that it is ready to have a controller paired. It's incredibly bright too as you may be using it in a dark gaming room and need to see that it is ready to pair.
The device can be used on your Switch dock as well as on the go. The device works on firmwares as low as 5.0.1. I believe that that was the firmware where Nintendo added the ability to use more 3rd party options. If you want to take it on the go with you, simply use an OTG that you may have already. It does come with a Bluetooth receiver for using controllers wirelessly. However, if you'd like to use your PS4/PS3/XBOX One S/XBOX 360/Wii U Pro controllers wired, you can just plug the controller in directly to the Coov N100 Pro. As a further sidenote about the bluetooth adapter, it works on Windows 10 as bluetooth the instant I plugged it in.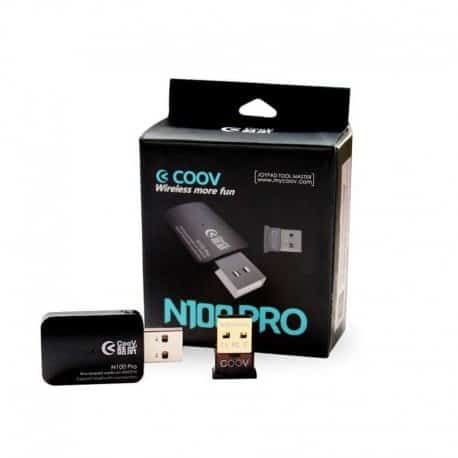 I would also say that the controllers that I tested were lag free when I plugged them in via USB cord. There were times that there was lag over Bluetooth if I happened to get too far away from the system. Since they don't have any documentation on this, except that it uses Bluetooth 4.0, I would say that you're just fine if you stay within 20 feet. That should be ample space for most game rooms and living rooms. And if you have an arcade stick that is for any of the aforementioned systems, you can plug it straight into the Coov N100 Pro and get to playing your arcade games via the Switch!
You can remap buttons if you want to. However, the default mapping of the buttons is the same as the layout for the Switch Pro Controller. So it really could just be left alone and you should be just fine. The motion controls work great as well. This is something that you can turn on and off within the specific games. Aside from adjusting the button layout there are other options that exist for you. These include recalibrating the thumbsticks, turning on and off turbos, assigning macros, and adjusting how hard the controller vibrates! These all work well enough and give the Coov N1oo Pro the edge on other adapters that exist.
Cons:
You might not have an OTG cable and it doesn't come with one either. This means that if you want to use this portably with your Switch, you're going to need to purchase an OTG cable. Also, not that it matters too much, but the promotional pictures of the Bluetooth adapter that comes with the N100 are branded as COOV. What I got in the package just says CSR 4.0. I wonder why maybe they sourced a lesser expensive one and didn't want to pay to have their name printed on it.
You do need to remember that your different face buttons will not match certain games. If you have games that pop up button prompts and show you the Nintendo face button, you have to press the proper button on the controller that you're actually using. This can become especially confusing if you're using an XBOX One controller as the buttons are lettered the same but are in a different order.
The DualShock 4 is the only controller that supports the motion controls as of this writing. Hopefully, they can add support for that on the DualShock 3 as well. Additionally, there is no vibration support from the XBOX One S controller as of yet. And speaking of XBOX One S, it mentions that that is the only version of the XBOX One controller that the Coov N100 Pro supports. So if you have an original XBOX One controller and test it out, let me know if it works.
This is the part where I also let you in on a little secret. The wireless and portable set up of this looks ugly as sin. I bought the smaller USB Type C OTG cable that I could find and it still took up a lot of room and hung nastily. I may recommend that you get a corded OTG cable instead so that you can at least play in tabletop mode. But even then you'll have to buy a stand for it because the Switch won't be able to stand properly with something hanging out of the bottom of it.
Additionally, just be aware that you may drain your Switch quicker if you're using a product like this in portable mode. I suggest leaving your Joycons connected to the Switch so that it may power the Switch a little bit longer. But all in all, these solutions are just hokey hack jobs. This product is just better for the dock.
Overall Thoughts:
There are definitely other Switch options out there. In fact, we've reviewed in the past such as from Mayflash and Brook Accessory. But this one definitely has controller configurations and options that the other didn't at the time of our review. I think you might find having to also buy an OTG cable (for portability) is a bummer. Now yes, all of the products from other companies require it. It is cheaper to buy these things than buying one Switch Pro controller. An N100 Pro plus an OTG cable and an existing controller you have, I mean.
However, I suppose you could argue that buying a Pro controller just works right out of the box. And that it has a much better battery life than the PS4 controller anyway. However, if you're trying to play other systems than the Switch with their opponent's controllers, then this is a very logical option.
If you'd like one of these for your Switch, you can find it here at mod3dscard!
If you like the author's work, follow him on Twitter @V1RACY and don't forget to enter the weekly giveaways!
And as always, stay tuned here on Hackinformer.com for so much more and follow us on Twitter @Hackinformer