The Dev Menu on the Switch can be a handy tool especially for installing your game backups. Now most SX OS users are pretty familiar with the Dev Menu as it's an easy way to install your backups right to the Switch's launch screen. So you don't have to go into the album everytime just to launch a backup.
Well, you don't have to be an SX OS user to have the Dev Menu as CFW Atmosphere can also use it. Just like SX OS we use one of the free demos in the eshop as a placeholder for the Dev Menu but you must be in CFW with Atmosphere for it to work, if not it will just error out. Using the CFW, the homebrew menu, and tinfoil app we are able to install NSP files right to the launch menu also. So I know we really don't need the Dev Menu anymore since the release of tinfoil but it's always nice to have options.
To install the Dev menu you need to use Atmosphere CFW, the tinfoil app, and a demo you like to use as a placeholder. For this sample, we are going to use the Hulu app since its the smallest free app in the eshop. To make it even easier we have put everything together so all you need to do is download the file below, unzip it, and install them onto the root of your switch micro sd card. If it asks you to merge/replace folders or files just hit ok.
Download: Dev menu for the switch
Next put the micro sd card back into the Switch and then launch CFW atmosphere and make sure to pick Atmosphere experimental or the dev menu will not work after being installed. Now go to the album button and launch the homebrew menu, there you will see the tinfoil app you just downloaded and installed.
Launch the tinfoil app, then pick title management, install NSP and pick Hulu.nsp. Last it will ask you if you care about fw requirement pick no and it will start to install the Hulu.nsp file. Once it's done exit out by just hitting the home button and you'll see the new Hulu icon on the launch screen.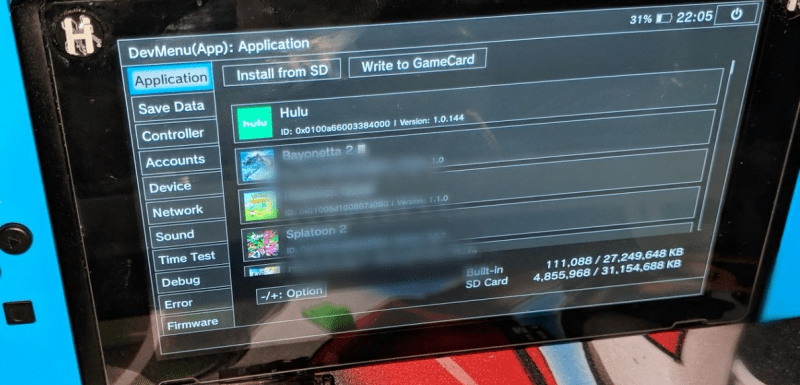 Open Hulu and the Dev menu will appear, now you can check out all the setting a Developers Switch has plus you can now install your own backups.
Warning using CFW and going online can result in getting your console banned and the same goes for using the DevMenu or any backups. So its best to stay offline when using them and always make sure to do a full backup of your system emmc for safe keeping.