Enhancing your gaming experience." This has been at the heart of Hori's business for decades. And now, Hori has once again stepped into the spotlight with their upcoming product.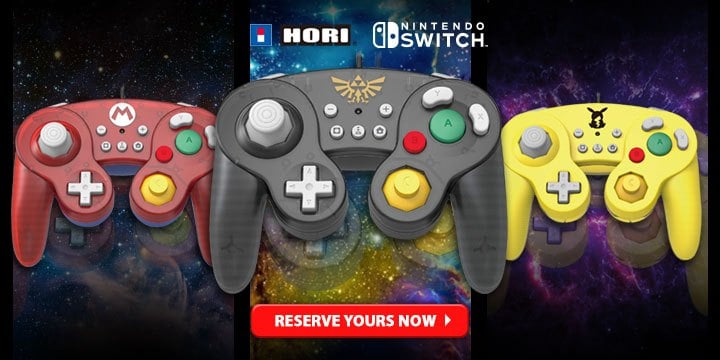 On July 24, Hori announced that they will be making their own Classic Controllers for the Nintendo Switch. The controllers are designed after the GameCube controller and officially licensed. Hori's Classic GameCube-Style Controllers will come in three different styles based on Mario, The Legend of Zelda, and Pikachu. Now, let check out some of the features of these cool controllers!
PRODUCT FEATURES
The Hori classic controllers are subtly enhanced and have been modernized. But Hori still remains faithful. They have kept the basic design of the Gamecube controller. They have just added a few changes and additions for it to work perfectly as a Switch controller.
You can take a closer look at the three classic controllers below.
【PRODUCT SPECIFICATIONS】
External dimensions : (width) about 141 mm × (depth) about 103 mm × (height) about 69 mm
Cable length  : 3 m
Mass: about 230 g
【THE PITFALL】
But just like any other controllers, this is not a "one-size fits all." The controllers do not have the following features:
Gyro sensor
Motion IR camera
Acceleration sensor
Player lamp
HD vibration
Announcement lamp
NFC (Near field communication)
The controllers can only be connected to the Nintendo Switch dock. It's not possible to connect to the Nintendo Switch itself.
Despite these disadvantages, of course, we still have something to look forward to with these cuties.
【THE STRENGTHS】
EASY TO PUSH BUTTON
Hori shaped these classic controllers for great convenience. They have developed a large and easy to push button where you can enjoy the game comfortably. In addition, you can switch the assignment of L / R and ZL / ZR button functions. Now, you can play games with easy-to-play button layout.
THREE STAGED FIREFIGHTERS
It is possible to set fireflies and fire hold in three steps of about 5, 10, 20 times per second. Settable button: A button / B button / X button / Y button / L button / R button / ZL button / ZR button / cross button (up / down / left / right)
※ The cross button can be set only for rapid fire.
ANTI-SLIP GRIP HANDLE
A special surface treatment was applied to the side of the controllers in order to provide a tighter grip.
USB CONNECTION
Players can play games by connecting the USB to the Nintendo Switch dock. Also, you can call up your friends because multiple units can connect. Enjoy these fancy classic controllers with your friends!
---
RELEASE DATE
The controllers will come out in October this year in Japan. However, the company hasn't announced any US release plans yet. But let's keep our hopes high, folks.
---
THE GOOD NEWS
Hori's Classic GameCube-Style Controllers are now available to pre-order here at Play-Asia.com. So, what are you waiting for? Order yours now.
PRE-ORDER YOUR HORI CLASSIC CONTROLLERS HERE
The Hori Classic Controller for Nintendo Switch is set to release sometime in October for 2,980 yen (roughly $27), although the company hasn't announced any US release plans yet.