The designer Roger Thornton at raspberrypi.org has released an upgraded version of the raspberry pi 3, now updated to version B+!! Along with the update comes new components and a faster CPU processor.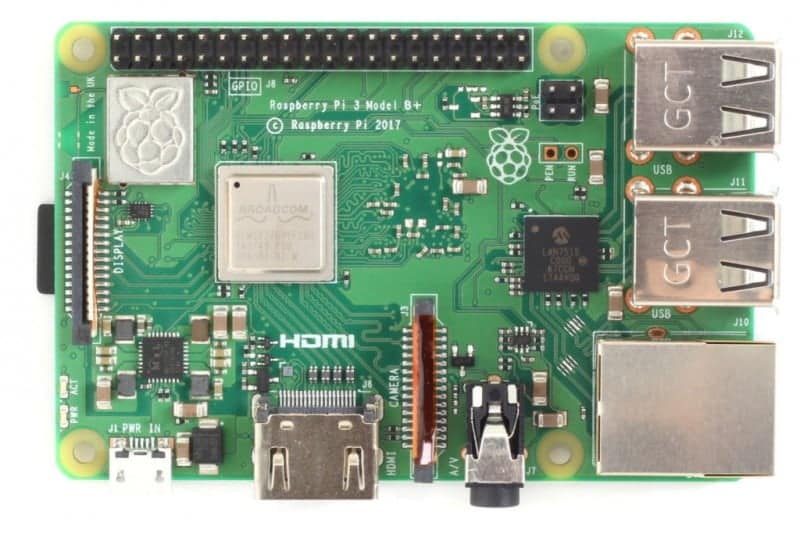 Like most upgrades to the Raspberry Pi, they are mostly substantial upgrades rather than a major overhaul. The new unit was released on March 14, 2018, and cost $35, the same price as it's predecessor. One of the major changes of the unit is the quad-core A53 (ARMv8) 64-bit clocked at 1.4gz as compared to Version B which used 4× ARM Cortex-A53, clocked at 1.2GHz.The speed boost should no doubt give some projects or games that experienced slowdown a boost in speed to the frame rate and also a smoother experience if you are using it as a mini PC.
The ram remains the same at 1gb, the network side has received a well-rewarded speed boost which now uses a Gigabit Ethernet (via USB channel), 2.4ghz and 5ghz 802.11b/g/n/ac Wi-Fi. A big plus for users that use the more advanced WiFi signals to get faster speeds and also for others that can get the extra boost with the Ethernet upgraded to Gigabit. On top of that, it's dual-band now! Meaning you can switch from 2.5ghz to 5ghz as opposed to version B which only used 2.5ghz. The Bluetooth also received a minor upgrade from 4.1 to 4.2.
With significant upgrades comes cons, unfortunately. Since most of these adjustments will raise the power consumption to 170-200mA and that's more than what was generated in the Pi 3. A mini fan should cool things down during extended use, thermal paste and heatsinks could also help with the heating. Other minor adjustments that were considered was the slot for the micro sd cards, which now uses a push and click mechanism insert instead of the slide-in manuever that was on version B.
There is still no on or off button to the Raspberry pi 3b+, which I never liked the idea of unplugging the power cord to turn off the device. I guess the designer is saving that for Raspberry Pi 4. The Raspberry pi 3b+ is more like a 3.5 rather than a full 4, the boost in CPU speed and wifi speeds is a welcoming edition. Fans will be disappointed since Co-creator Eben Upton mentioned the Pi 4 will not be released until 2019.
Specifications are taken from Raspberry.org
Broadcom BCM2837B0, Cortex-A53 (ARMv8) 64-bit SoC @ 1.4GHz
1GB LPDDR2 SDRAM
2.4GHz and 5GHz IEEE 802.11.b/g/n/ac wireless LAN, Bluetooth 4.2, BLE
Gigabit Ethernet over USB 2.0 (maximum throughput 300 Mbps)
Extended 40-pin GPIO header
Full-size HDMI
4 USB 2.0 ports
CSI camera port for connecting a Raspberry Pi camera
DSI display port for connecting a Raspberry Pi touchscreen display
4-pole stereo output and composite video port
Micro SD port for loading your operating system and storing data
5V/2.5A DC power input
Power-over-Ethernet (PoE) support (requires separate PoE HAT)
You find the new Pi3B+ on Amazon here…