That's right everyone, the long-lost title 40 Winks is finally going to see a release in 2018 from Piko Interactive!  As soon as you open the Kickstarter page for 40 Winks, you're greeted with the following, "40 Winks is a Nintendo 64 platformer that was canceled back in 1998 by publisher GT Interactive. Now is ready to release officially!" Let's dive deeper into the history of this game, shall we?!
History of 40 Winks:
No, you're not crazy. You've absolutely seen this game to buy before. What you haven't seen is it available for the Nintendo 64. I have the breakdown from Wikipedia for you here.
'40 Winks is a platform game developed by Eurocom and published by GT Interactive as for the PlayStation. A version was developed for the Nintendo 64 and reviewed in both Nintendo Official Magazine UK and Nintendo Power (whose January 2000 issue even got a strategy guide for the game), but was canceled at the last minute.'
Now, there is presumably more to the 40 Winks story that Wikipedia doesn't cover. For that story, we need to look to Piko Interactive's Kickstarter page.
'In 1998 GT Interactive commissioned Eurocom to create a game. This game was 40 Winks, also known as Ruff and Tumble in Europe. However, in 1999, due to a slew of bad decisions by GT Interactive, the company lost millions of dollars of revenue. These financial troubles plagued GT Interactive throughout the following two years. 
To stay afloat, GT Interactive began downsizing operations and selling popular game franchises. Eventually, the financial strain became too much, and they were acquired by Infogrames. 
The Infogrames acquisition brought with it shakeups within GT Interactive including, but not limited to, canceling projects and pressing the "kill" button on other games that were in development. 
While 40 Winks was able to see release on the original PlayStation console, the Nintendo 64 port, which was under development around the time Infogrames became involved, was not as lucky. The N64 version of 40 Winks was canceled and until recently thought to be lost to history and time itself. 
Nearly 17 years later Piko Interactive have pulled 40 Winks out of limbo and plan to give it a fair chance to shine on the Nintendo 64.'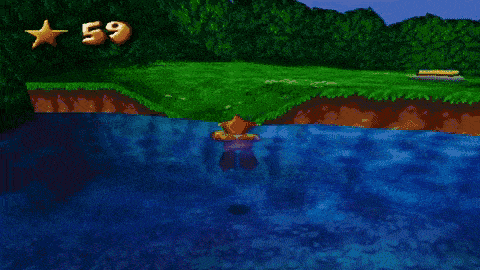 What Now?:
Now that Piko Interactive has come along to give the game another chance, they turned to Kickstarter. Piko Interactive has spent the last 5 years making new games for retro systems as well as bringing back games that dropped off the map, like 40 Winks. In order to do a game like this, to the proper scale, they simply had to turn to crowdfunding. It's the first time that anyone has tried to bring a Nintendo 64 game out since the console was discontinued. So Kickstarter not only helps cover the necessary costs, but it also gages the community's interested in a project.
The costs in this situation are to cover "PCBs, toolings, packaging, and other details to basically start mass producing Nintendo 64 games again. Funds acquired in this Kickstarter project will pay for the manufacture of a working PCB that is compatible with the Nintendo 64. Then work will commence on getting the cartridges done, designing the package and insert, and if stretch goals are met – even more cool stuff." So as you can see, Kickstarter is probably the smartest route that Piko Interactive could've taken in tackling this task.
Let's Talk About The Game Itself:
For those of you who haven't already played 40 Winks, here is a quick description for you. "40 Winks is an action platformer where you control brother and sister, Ruff and Tumble. Your goal is to collect 40 Winks scattered around the world to stop an evil man called Nitekap. Nitekap wants to turn the winks into hood-winks who are responsible for giving children nightmares."
I also have the features list here as well:
'Transform into different characters! Attack as a stealth ninja, fight as ferocious monster, or fly into action as a super hero!
Tons of mini-games as well! Race dragons, strap on a rocket, and more!
6 themed levels – a scary castle, shipwreck city, outer space, deep down underwater, back to the prehistoric world of T-Rex and giant wasps and into the nightmare world of ghosts and monsters.
Co-op 2 player mode exclusive only to the N64 version.'
There will be 2 game versions, the Regular and Special Edition.
'Regular Version:
40 Winks Regular version will include a 40 Winks gray game pack compatible with your N64 console.
Color Cardboard box and insert.
Color Manual.
Special Edition:
40 Winks Special Edition will include a 40 Winks colored game pack compatible with your N64 console.
Special Edition Cardboard box and insert
Color Manual
Special Edition Poster
A POG featuring special edition artwork.'
If you're interested in backing 60 Winks on Kickstarter, click here!
If you like the author's work, follow him on Twitter @V1RACY
And as always, stay tuned here on Hackinformer.com for so much more and follow us on Twitter @Hackinformer