Thanks to the fast-paced announcement teaser with great music and stunning graphics, a "bullet hell" FPS Mothergunship was the game I had to try at Gamescom.
Mothergunship is being developed by Grip Digital (The Solus Project, Atomic Ninjas) and Terrible Posture Games, whose sole member is Joe Mirabello, and are known for developing a well-received FPS Tower of Guns. That is why some fans of Tower of Guns tend to refer to Mothergunship as "Tower of Guns 2". By the way, Grip Digital later ported Tower of Guns to consoles.
I started off with just one gun by killing several "semi-friendly" robots. My excuse was that I did it in order to get a grip on the controls. In the game, players face hordes of mechanical enemies on randomly-generated ships. After a while of doing so, I reached a craft room, which takes me to one of the key elements of the game – gun crafting.
Players have absolute freedom in creating guns, the only rule being that Barrels must point forward. If they want to have a rocket-shooting shotgun with a flamethrower, why not. There are 2 things to consider, though. Firstly, players soon obtain another gun, so one could say it is wiser to have, for example, each gun for different enemies or situations. And secondly, there is only so much energy that can be used on shooting. And every piece of tech, being it a barrel or a connector, adds up to the total energy consumption.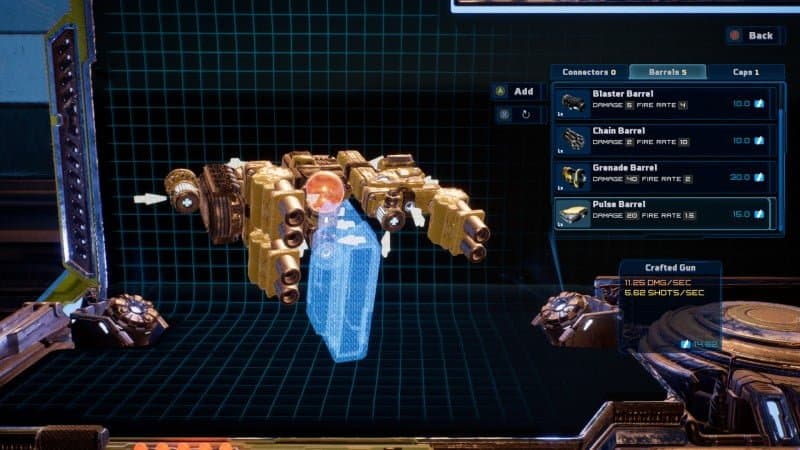 Anyway, after doing some modifications to my first gun and obtaining second, I settled with one gun firing a few powerful, huge projectiles, and the other countless small ones. To my surprise, I ended up finishing the mission by killing the boss you can see in the third picture.
The ultimate, humanity-saving goal is destroying the MOTHERGUNSHIP.
The game will feature cooperative multiplayer, but not competitive multiplayer. The release date has not been set yet, the supported platforms are going to be PC, PlayStation 4 and Xbox One. If you are impatient, check out the recently release "Resistance Trailer" to have a closer look at some game mechanics, such as crafting.