MrGhidini updates his Psvimgtools-Easy-Frontend again and this update will make installing Custom Themes, the PKG Installer Bubble, the PSTV Whitelist Hack and can remove the Featured Bubble in a breeze. Remember that this still won't allow you to use the PKG Installer bubble like before unless some tweaks are done before you updated pass 3.60.
Full Changelog:
(Hackinformer Suggestion) Added ability to add Themes automatic
Added ability to add Whitelist
Added ability to add Remove Featured
Added ability to add Package Installer
Added ability to add SQL commands and themes
So how do I install any Themes or SQL Database Tweaks?
Make sure you have QCMA installed. If you don't then you will have to download it from here. Then, download the latest version of Psvimgtools-Easy-Frontend and extract it. After that, open the application. Finally, connect your Vita to your PC and make a complete system Backup with CMA.
To add more themes than the 4 included ones you need to download them from here, here, here or here. After downloading extract them and copy the Folder to "\Psvimgtools.Easy.FrontEnd1.6\CreateBackupExe\THEME\". Make sure it looks like this:


1. Now to install a Theme click on "Theme/app.db". It will ask you which Backup you want to inject this into. Select the one you made before.

2. Next, it will ask you which Theme you want to install. Select the one you want to install.

3. After clicking "Ok" wait until this message appears. You are done. Now do this again until you installed all custom themes you want.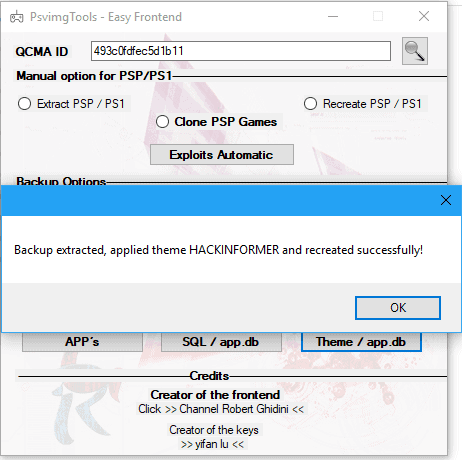 4. The last step is to copy your complete Backup to your Vita now. After the restore is complete you can enjoy all the great custom Themes you just installed.
If you want to add a PKG Installer Bubble, install the PSTV Whitelist hack or remove the featured App just follow this.
1. Press on "SQL / app.db" and select the backup you want to inject this into.

2. Next, select the SQL Database Tweak you want to install and select "Ok".

3. Wait until it's finished and gives you this message. If you want to install more than one Tweak just do these Steps again choosing another Tweak. If you're done just restore your Backup to your Vita now and enjoy your new Tweaks.

That's it. I really like this new update which allows to easily install Custom Themes and install a few SQL Database Tweaks to your PSVita or PSTV. I wonder what will be added to the next update.
Source: MrGhidini