So, you wanna be a fighter? Very well! You needn't be Rocky Balboa to reap all the benefits of boxing, to become a champion in this unmatched sports passion, a Switch, and a copy of Arms are enough.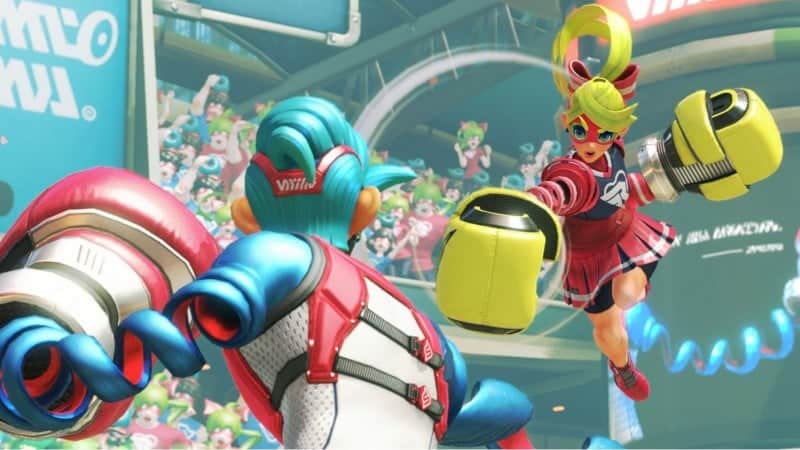 Mix up these three ingredients, and you can change your room into the new pugilistic heartland. WithArms you can exploit the latest flexible sporting technology at your will using the most advanced bio-arms, assemble them to improve your technique, and fighting skills in no time. The noble art has never been so funny. Knock down the contenders using a wild assortment of sharp jabs, devastating body punches, and combinations that'll send your opponent to the canvas!
Choose your character, a pair of bio-arms – each one with its own special power and handling ability – and get ready to rumble! "Punch, breathe, repeat" must be your motto, its action is lightning fast, and you should be prepared to use your brains as well as your brawn to keep your warrior in shape until the victory.
Even if Arms seems an extremely simple game at a first glance, if you'll play it you'll discover a deep title with a lot of great game modes both offline and online. Compete against another player or battle it out one-on-one against the CPU.
Fight your way through 10 matches against the most skilled fighters to prove to the world that there`s only one true champion: you! You know, variety is the spice of life, and this means that more matches you'll win, and more money you'll earn, use them to improve the bio-arms choosing between a HUGE array of powerful gadgets such as: boomerangs, missiles, and so on…
Arms is simply marvelous! Grab the Joy-Con, and fight hard to reach the highest level of strength, speed, agility, hand-eye coordination, endurance, nerve, and power in this new colorful slugfest never seen before in a video game.
Aux Arms citoyens!
---
---
  2017 Play-Asia.com