Every now and then I have the opportunity to interview some of the best and most creative people involved with gaming and development, today being no different! I give you my interview with Kouchan.
I recently got to sit down and ask Kouchan what makes him tick. For those of you unfamiliar with Kouchan  and the work he has been a part of, he has been working on the custom Vita project's with @Nzaki0716 and together they have made some awesome systems much better than anyone could have ever imagined.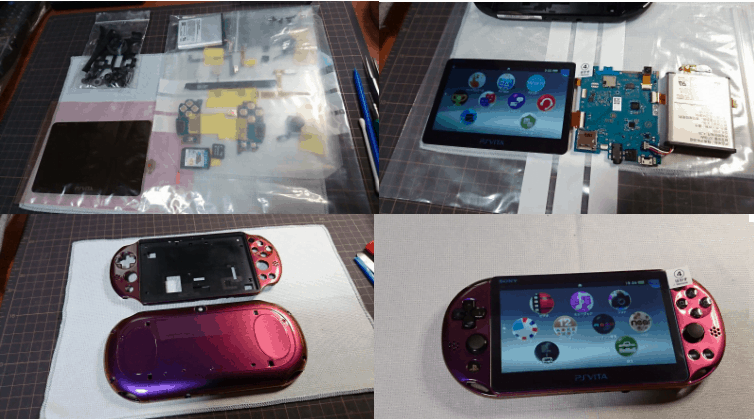 So let's see what makes this awesome man tick and find out what Kouchan has worked on before.
1. How did you come up with the idea for the PSP Go memory adapter you have been working on?
I got the pinout information of M2 memory card and MS PRO Duo memory card by @KanadeEngel tweet on March 6, 2016.
Currently it is very difficult to obtain an M2 memory card. Even if found, it is very expensive. So I focused on MS PRO Duo adapter which can convert by inserting micro SD card.
At that time, @KanadeEngel and @mileleku were proceeding as projects. They chose to remove the memory card slot from the main board of the PSPGo and wire it directly to the main board.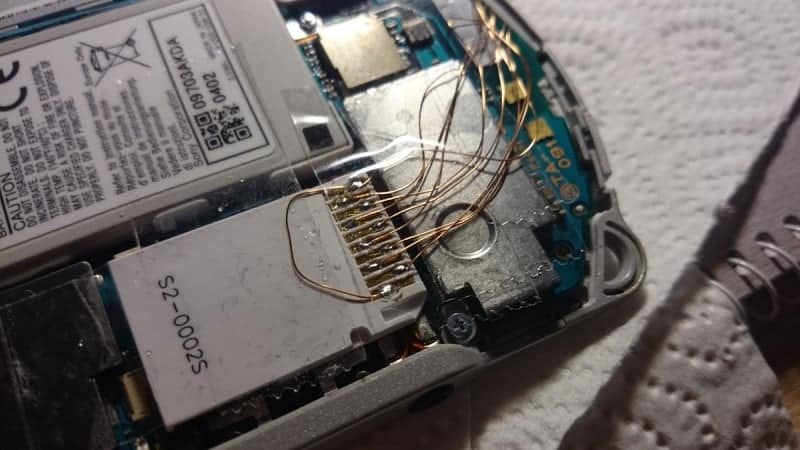 Photo's by @mileleku
I think their job is very wonderful. That is because the purpose is the same but I think their way is very dangerous and I thought it was difficult to replace the MS PRO Duo adapter.
So I thought about ways to make it easy for anyone to remodel.
That is this M2 dummy adapter.
Then I got detailed information on the M2 memory card and wrote the board design drawing.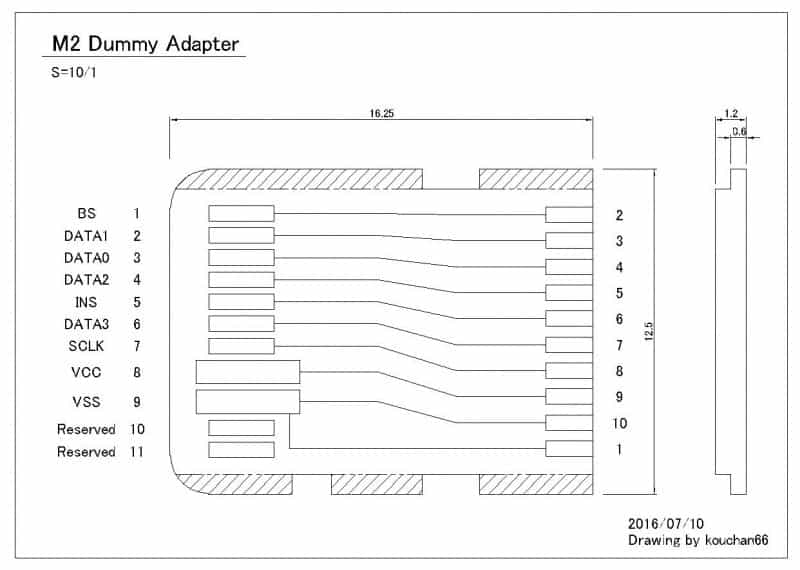 (Dimensions are omitted for prevention of plagiarism.)
And we asked the vendor to make a production. I ordered only a small amount for trial production.
The completed M2 dummy adapter was perfect. Then wire it to the M2 dummy adapter and MS PRO Duo adapter, and the detachable adapter was completed.
It is possible to install the M2 dummy adapter assembly in PSPGo, but I am considering installing it outside of PSPGo.
But I didn't come up with a good idea.
I am considering it so that I can offer it to everyone in the future. Please do not expect too much. Everyone has to wait for a long time. LOL
2. Do you have loads of tools to do what your mods and repairs?
Yes, I have lots of replacement parts and tools.
I can not show everything because there are so many tools and repair parts. This is only a part of it.
Most of the pictures are related to the PSP series and PSPGo, but there are 3DS and PSVita parts as well. Recently I have made it difficult to manage inventory so I will order it when repair parts are needed.
3. When wanting to work on stuff what are some of the safety steps that you take to make sure you don't harm the product?
I think of product protection as top priority anyway.
I always attach a protective film to the screen first and then do the work.
When working, lay a soft mat, to prevent scratches and dirt on the shell case. Among them, I pay most attention to handling the main board. Especially in the winter season, static electricity occurs a lot, so I am particularly careful. Others are parts management after disassembly. These are also important matters. I am careful that each part does not touch each other.
4. What got you started in hardware modification with the PSP/PSP Go?
Yes, I have customized and repaired countless PSP (1000, 2000, 3000) and PSPGo in the past.
I have experience of failing over and over again. But I did not give it up. I enjoyed repairing mainly to gain knowledge and experience.
By the way, I also have a washing machine repair experience. LOL
5. Are there any new projects you can tell us about?
Currently I have plans to produce @Nzaki0716 and custom N3DS. But we are still at the planning stage. We need to do a detailed investigation. We can not judge whether it is feasible yet.
6. What would you say is your favorite video game system?
Well, that is a difficult question. I think that everyone may find this hard to believe, I hardly play games. LOL, but I personally like Sony and Nintendo game systems.
7. How did you get started working with @Nzaki0716 on his custom Vitas?
Previously, I was repairing  game consoles with just one person. Then I started Twitter in February 2011. And I got acquainted with Nzaki. We received technical advice and exchanged information through Twitter and we came to acknowledge each other's technical capabilities. A few years later, Nzaki trusted my skill and invited me to make custom machines.That was the beginning of the Custom Vita project.
The Custom Vita project was started simultaneously with the project in October 2013. As everyone knows, I am in charge of disassembly and reassembly. Nzaki is in charge of custom painting. When this project began, it was very difficult to peel off the LCD panel. There was no precedent, it was the first challenge in the world. I remember the fear and tension at that time but now I remember the procedure so I can peel it relatively easily.
Before we started our custom Vita project we made custom PSP and Wii.
This is only a part of it.
For me, Nzaki is a good friend, and a good rival. I would like to enhance each other's technical capabilities and to make better products in the future.
P.S. Although it may be surprising, we have never actually met. LOL
8. Do you find it more difficult to work on older hardware vs newer?
Yes. Because I have few new hardware information, I always suffer.
So I decompose it, I check it with my eyes and examine the structure.
Understanding the structure of new hardware is not difficult.
However, I think it is very difficult to obtain parts for repair.
Procurement of repair parts is equally difficult with old hardware and new hardware.
Many parts are discontinued or not sold.
9. What has been the most difficult mod/repair you have worked on?
Hard MOD of Wii U was very difficult.
I had to wire it to a very small point.
eMMC Pinout
NAND FLASH Pinout
I have created the wiring diagram.
The hardware remodeling was completed without problems, but the project disappeared for various reasons.
The reason is that @173210 abandoned the project halfway.
In the present situation there is no future for this project. This is very disappointing.
10. In closing is there anything you would like to share with our readers?
Thank you for reading this article to the end.
I am not a hacker, but I hope the current hack scene will be more exciting than ever.
I will do my best.
Everyone, please support the hack scene so it will keep being exciting.
Finally, everyone at TEAM Hackinformer.com is awesome.
Thank you very much.
I would like to thank my friend Kouchan for taking the time to talk with us today and we wish him nothing but the best in his future projects. Please give him a follow @kouchan66 and send some friendly tidings his way.
Thanks for reading and keep doing it for the love of the game.