I want to share something really awesome I got to play with at E3 this year, it's called the Smartboy. It's a very cool attachment that resembles an old school fat Gameboy. It gives you that retro feel for a new generation of gamers. For my brief time with it, I got to play Pokemon Blue.
It is quite responsive for its prototype stages, yet it still has quite a ways to go. I spoke with Chris from Hyperkin while I demoed this wonderful device. This prototype I played is a handmade prototype which needs some refinements. On the Samsung (android) phones, since emulators are a thing, this will come with instructions as to how to dump and use those ROMs and emulators to play Gameboy, Gameboy Color, and Gameboy Advance games. As an added bonus, you can most likely play your original cartridges if you still have them. The screen will be the display, and thanks to the magic of the Smartboy, it will play as your controller.
I played this device for about 15 minutes. It does still have its issues, but once again it is in the prototype stages. The A and B buttons would get stuck. In addition, the gamepad would get stuck in the up position at times. However, I was assured by Chris that by launch, these issues will be non-existent.  Despite these issues, I picked Charmander, fought some Pokemon, and made it to the next city just fine. It works well for what it is, but will get the polish and improvements it needs.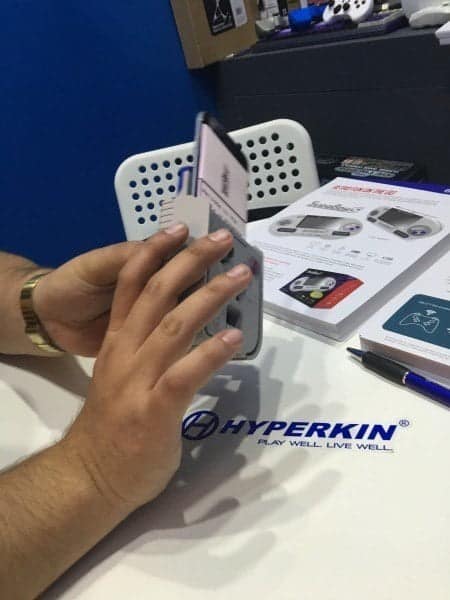 When I inquired about an Apple version (being an iPhone user myself) I was told that it is currently in planning to make an iOS version that where most of the backend work will be done with the device. It will be much more than an attachment then, but the device that allows it to work on iOS. The screen will still display what is being played that way.
All of this is still in early stages, but to come this far to be this impressive is no small feat. Chris and the gang at Hyperkin have been working endlessly on this product to ensure it will be in your hands late this year.
Below is the flyer that was given to me at E3, I was given permission to share.
As of right now, it is scheduled to release late this year. If you want more details about the product, ask away in the comments, or visit the product page here for more information.
Til next E3 update, mgs2master2 out!