Are you one of those people who always wanted to use a USB stick on your tablet or phone? Especially iDevice users were left out of the idea of expandable storage because of Apple's market strategy to sell devices with more Gigabytes for hundreds of dollars extra. Well maybe this product might be the solution to your problems:
The CR-8800 made by PhotoFast, a Taiwan company specialized in storage solutions and mobile accessories, is the world's smallest and most versatile iOS microSD card reader.
All you need is PhotoFast's free i-FlashDrive ONE app available in the AppStore.
"It is an honor to bring the PhotoFast iOS Card Reader, our smallest and most powerful card reader, to the market," said Mr. Warren Wang, CEO of PhotoFast. "The reason we manufactured a microSD reader is that it consumes less power from iPhone than an SD card. By using microSD card we are able to share and exchange files with microSD compatible phones (Android/Windows)" Mr. Wang added: "We are a very proud and humble team who strives to design innovative products that enhance the usability of Apple devices. We adapt to the ever changing technology landscape and make Apple devices even better."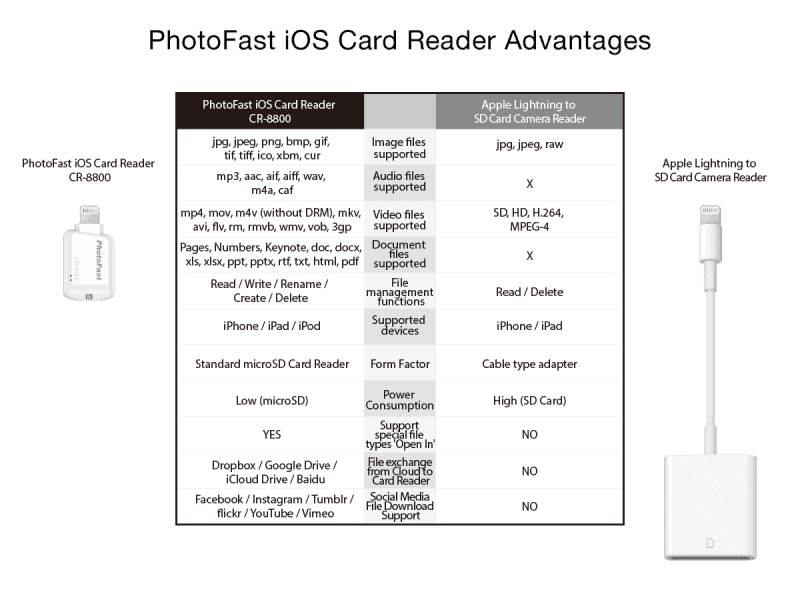 The PhotoFast iOS Card Reader is available with up to 128GB capacity, and with retail prices for the reader beginning at only $39.99.
So if you got interested, you can find out more about it here: www.photofast.com and you can buy them here..