After the recent Tokyo Game Show, Square Enix revealed more details about their upcoming Dragon Quest spin-off title, Dragon Quest Builders, what can best be described as an extremely polished crossover of Minecraft and Golden Age JRPG Dragon Quest.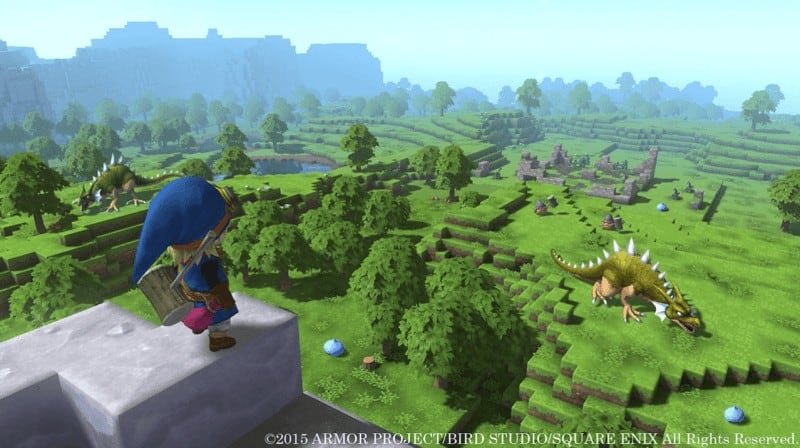 Set in Alefgard, the original world of Dragon Quest, Builder's story is based on the results of a parallel ending from the original 8bit NES/Famicom game. Veteran players will remember that before the final battle against the Dragonlord, an optional ending was offered where both hero and villain rule half of the world (and is one of the first optional endings in video games for that matter).
In this universe, the descendant of Erdrick does just that, and is in turn eliminated, leaving the world of Alefgard now dominated by monsters. The new hero of Dragon Quest Builders is now tasked with rebuilding the land, literally from piece by piece, gathering material – rock, wood, fruit, flora, slime ooze, and more – from all over a vast open world with day and night cycles!
An interesting premise to say the least, the story of this game sets the context of why and how the minecraft mechanic will work. At the same time, there is a focus on adventuring, crafting, and combat, so unlike Minecraft, there will be an actual endgame to an extent. There will also be a huge abundance of Dragon Quest tropes, from the iconic music of Yuji Horii, legacy weapons and armor, and monsters like the fearsome Green Dragon as well as everyone's favorite – the Slime, all based on the designs of Akira Toriyama.
If Dragon Quest Heroes was a good indication of the level of quality we should expect from a DQ spin-off, then gamers can be confident in looking forward to Dragon Quest Builders, releasing in Japan late January, 2016! There's also mention of an upcoming Chinese Language version, which means a Western Localization is a strong possibility~
PlayStation 4 PlayStation 3 PSVita – Japanese Release Date: Jan, 28th 2016
PS4 pre order: Dragon Quest Builders Alefgard o Fukkatsu Seyo
PS3 pre order: Dragon Quest Builders Alefgard o Fukkatsu Seyo
PSVita pre order: Dragon Quest Builders Alefgard o Fukkatsu Seyo
2015 Play-Asia.com